Discussion Starter
·
#1
·
Went out this morning just to scope things out and put some gas in the boat - nothing serious. Out of habit, I checked the radar before leaving - nada. I knew we were forcast to get storms, but recent forcasts haven't been 100% lately so I decided to stick close to home.
I heard a few rumbles of thunder, but seeing OMD and LUV2FISH charters still out I decided to do what she did. After a few drifts, I tried to hail her on the VHF, as she motors over and tells me there is a huge storm in Port Jeff, and moving east at 5 mph. Time to tuck tail and get back in. I thought I could make it back to my slip in time, but decided to be cautious and hold out at Ralphs and let the front pass.
While trying to dodge rain under a tent, I decided to check out the radar again, and this is what I saw: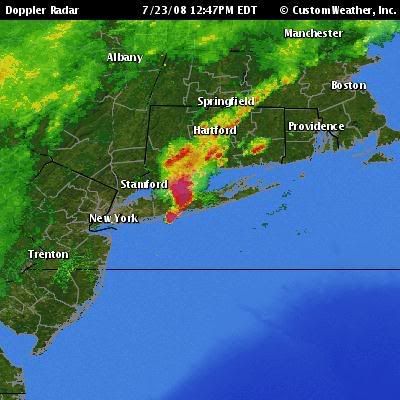 Anyway, thanks Captain Barbara for the heads up. It was nice to finally meet you in person. How did the rest of your charter turn out... the girls seemed really anxious to get back fishing!
Does anyone else have any "stories"?