Discussion Starter
·
#1
·
I never thought I would use two-piece rods as I always favor one-piece rod for tuna jigging. But the new airline regulations and the new opportunities of tuna popping forced me to use two-piece rods.
Surprisingly the new experience of two-piece rods for tuna jigging and popping has been delightful as I don't see any action differences between one-piece rods and two two-piece rods and it is quiet convenient to travel with them.
Unlike most American two-piece rods which have joint in the middle of rod, Japanese style two-piece rods have joint close to the reel seat position. When you see Japanese jigging/popping rods, you'll notice that the diameter of grip is very thin. I found the thinner diameter of grip is more comfortable as my hands are small. The other advantage of thinner grip is it can reduce rod's weight.
Rodwinder builit one popping rod from Smith 80P/35 blank, and one popping rod and one jigging rod from OTI's 7'6" blank rated to 80 lbs.
Smith 80P/35
I purchased the blank from Anglers Proshop. Unlike in the US, Japanese don't sell blanks to the public. The 80P/35 blank are mainly designed for GT popping. When I went GT popping in Fiji, I use the rod and it performed great. the rod is relatively light and cast very well. I have no doubt the rod can handle any tuna under 100 lbs and you can catch bigger tuna with it if you use it with care.
This blanks is very simliar to my Cosmotech rod while Cosmotech rod is more parabolic.
I caught GT upto 80 lbs using the 80P/35 rod in Fiji.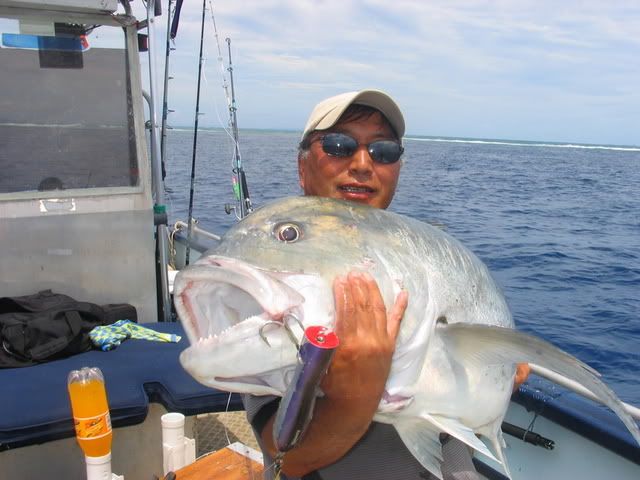 OTI 7'6" rated to 80 lbs
I purchased two blanks from 360tackle.
The blanks are composite and very strong. While the weight of this blank is a littly heavier than 80P/35 blank, I feel the rod has more backbone. I landed a few 70 -80 lbs yft with the popping rod (using bait) and it didn't take more than 5 minutes with heavy drag.
I brought a acid wrapped jigging rod from OTI blank when I came down to Florida. As I posted before, I could bring it as carry-on item without any problem. Though I didn't catch any big fish on this rod, I am pretty confident that this rod is good as any rods I have to land big tuna. As I liked the blank, I ordered one more. I am going to ask Rodwinder to build a short Japanese style jigging rod from top part of the blank. Then the rod will be a great 4 1/2" jigging rod and I can bring the rod with two-piece rods as carry-on whenever I travel by airplane.
Two-piece jigging and popping rod from OTI blanks. Both top section of jigging rod and popping rod can share the bottom part of the rod.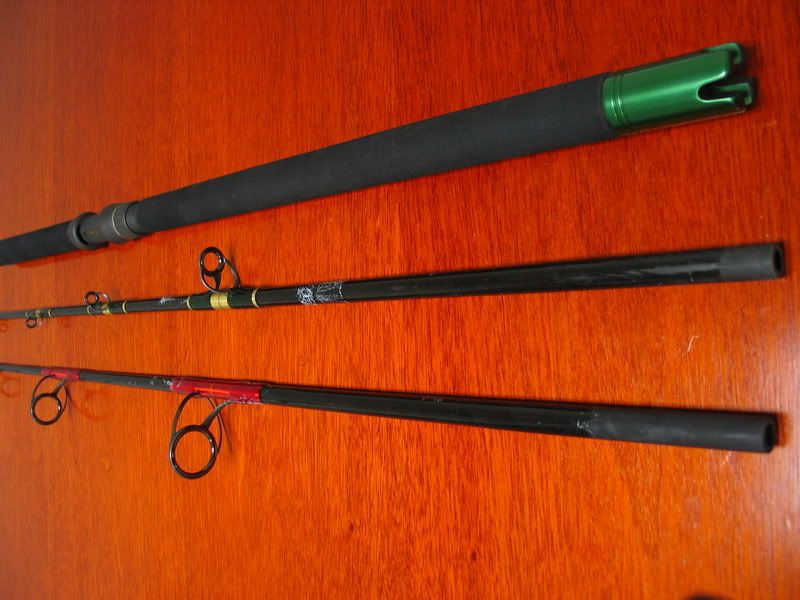 TJ demonstrating 7'6" popping rod's lifting power.
This post edited by KILSONG 11:30 AM 12/24/2007