Discussion Starter
·
#1
·
It is great to finally get some reports of some flounders now biting in the Raritan Bay area, and Captain Anthony of the charter boat BARBARA ANN out of Great Kills Staten Island was nice enough to foward me a few pics of the fishing he had the last few days.
Limits were very easily made, and fish up and over 2.5 lbs were brought to boat. As you will see from the pics, the average size of the fish are very nice.
Now I should point out that the weather has finally started to cooperate after last weeks rain storms and the wind which gusted to over 40mph on one day (I happened to be out in that mess!).
The key here to remember:
1-Go to the early season productive areas and set up-
2-Don't go jumping around if the fishing is slow-
3-Bring Worms, use LOTS OF CHUM-
4-Fish through both sides of the tide (you never know when they will turn on, with each day seeming to be different on the part of the tide they feed)-
5-Use two anchors to limit your swinging-
It has been reported that the fish have bit some days near the middle to the end of the ebbing tide, while yesterday it seemed incoming water was more productive.
Again don't get jumpy and start playing anchor drills because you have only a handful of fish for a few hours of fishing. If you have the right bait, your chumming and pounding the bottom, and you are fishing at one of the known productive areas, GIVE THE FISH TIME TO MOVE AROUND AND COME TO YOU!
As important, don't go anchoring up right next to another boat. Spread out, there's enough room in the ocean for a number of flounder boats to find there own fish without having being close enough to hear the other boats fishermens conversations. If you see a party boat anchored up, leave them alone and find your own patch of bottom.
We have spoken about how flounder fishing has been extremely tough the last few seasons, and that the run of fish basically lasts about a month. The bottom water temps have been cooler from what I have been told, and few striped bass have been caught. But that can change as the weather seems to be warming up during this week.
So here, let me post the pics for the last few trips.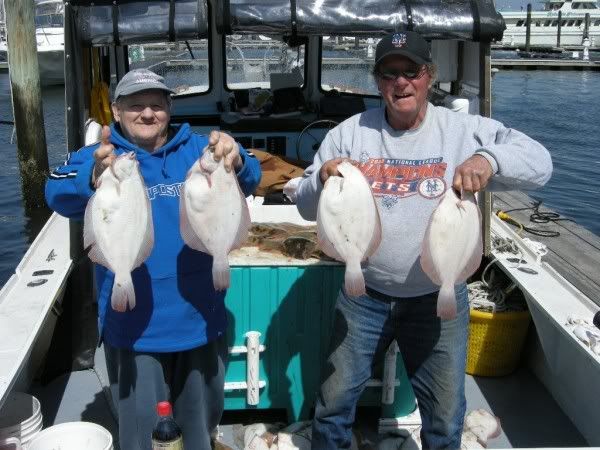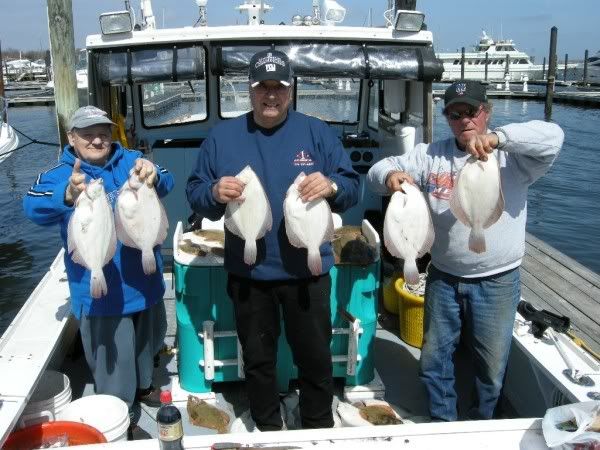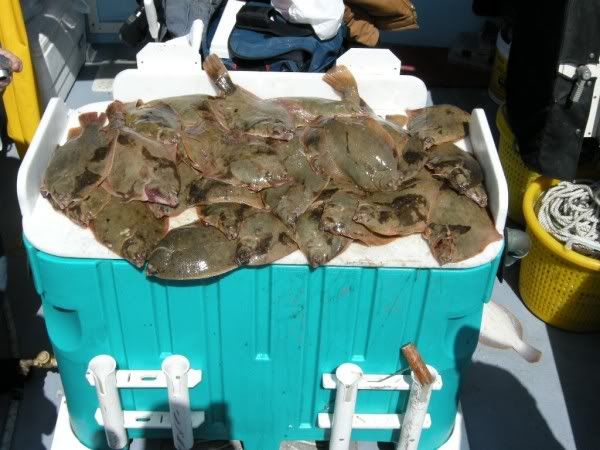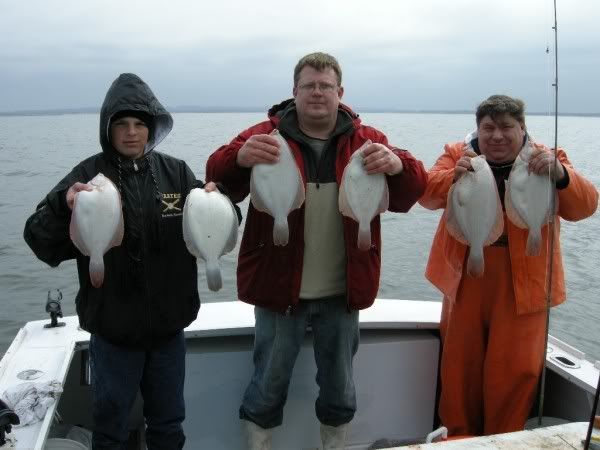 Good luck to you guys who are going out there the next few weeks!
EC NEWELL MAN<>