Discussion Starter
·
#1
·
We went on the Norma K 2 weeks ago...the fishing was ok (locals said it was slow), but we still had lots of fun and enjoyed the boat. The boat is definitely one of most comfortable fishing platforms that I?ve been on so far in this area. They cruised out there at a faster speed than any of the shb boats that I go on cruise at and the boat is extremely clean. There were 4 foot rollers on the way out, which we didn?t even feel. It would definitely be a great boat for a family and the crew is extremely professional and helpful...There was a very Jersey and not SHB feel (no crazy drunk hogging all the bait and screaming at anyone who tries to take some). I caught 8 ling and my friend caught 6 ling (3 big guys) and of course dogfish. There were lots of little nibbles (bergalls?).
My only complaint is that it took them extremely long to anchor...although this was supposedly a result of the previous day?s big blow and still heavy current. I imagine that the troubles were greater in such a big heavy boat. Initially we had to use 16oz to hold, but by the end 12oz was fine.
Oh, and ling are awesome tasting fish , so far my favorites in the area (sort of like grayling?don?t ask me how I know). They have a very delicate and moist flesh. I fried them in flour spiced mixed with onion powder, garlic powder, and Cajun spices and then I dripped tobacco sauce and lemon juice on them....yummy!!
I would definitely love to do another ling trip. The norma K is now in for repairs etc?..how much longer do the Jersey boats target ling? Are they only targeted in the winter b/c this is when they can be caught or is it just that there are more preferred species?
BTW, it really feels like it would be a perfect offshore boat with those triple screws and supposedly they will be running them this year b/c they just got an offshore license
Below is my friend with a double.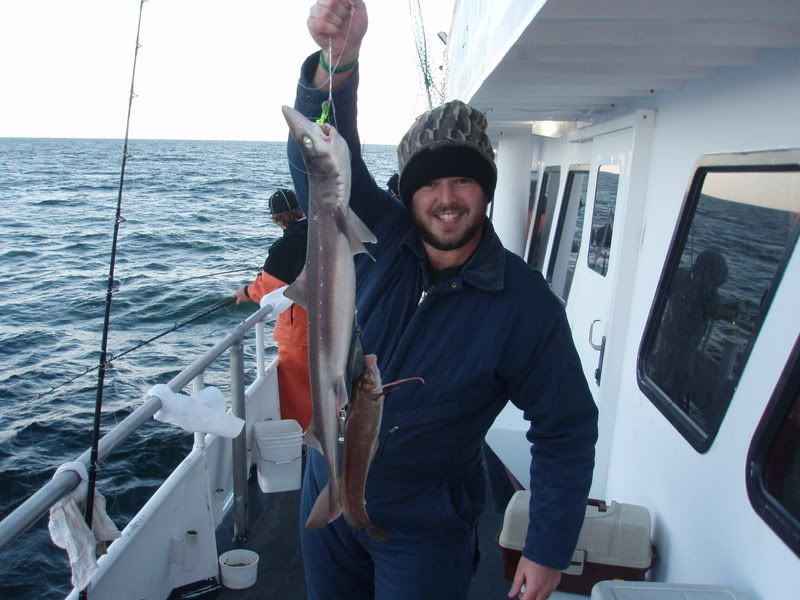 This post edited by chinookhead 11:10 PM 03/11/2008