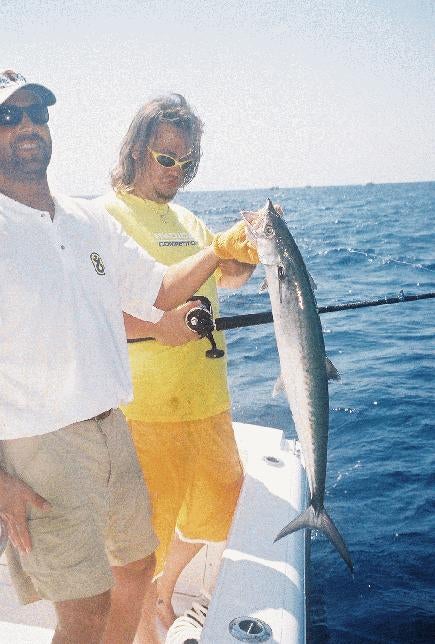 Although sailfishing has slowed over the last week there have been no shortage of fish to catch. Especially kingfish!

Kings have show up in pretty good numbers from the Breakers to the Loran Tower. Many fish are less then 10lbs, but many fish over 30lbs are being caught daily. Start in 90ft and adjust your drift to fit the conditions. Blue runners are accounting for the larger specimens, while dead sardines will fill the box as well.

Good news is that schools of bait have been close enough to Jupiter inlet to be able to find and catch them with a bit of consistency. Last weekend the greenies were out in front of the inlet, but during the week I had to run further north to find them. Thursday large sardines were outside of ST. Lucie inlet in 60ft. That's a pretty good run from Jupiter but putting 50 or more live baits in the well is more than worth the extra time.

If kingfishing off the Loran Tower don't be surprised if you get mugged by jack crevelles. Giant jacks, some over 30lbs. are just inside the 70ft ledge, stacked up from 30ft down to the bottom. Using 30lbs. tackle we still got our butts kicked by these bruisers. One unsuspecting goggle eye hung from they kite was happier in the air then in the water when 10-15 jacks came up on it.

Sailfish are still around in decent numbers but it's been hard to find any concentration of them. One here, one there, a couple of double headers, but nothing consistent. Just keep on live baiting and they'll find you.

Dolphin and wahoo are playing the game, here one day and gone the next. I believe it's all due to water conditions. After some pretty strong cold fronts came thru water temps. dropped and visiblity diminished. Thursday brought warmer water and some scattered depris, hence more dolphin caught.

Look for ideal water conditions and you'll most likely see some action. These fish are on the move and hungry, find them and feed them.