Discussion Starter
·
#1
·
DOCK TALK #34- 7/24/08- MIDSUMMER DOLDRUMS, BOOK REVIEWS, BEING SCHOOLED & OTHER INDUSTRY TALK-
Well it is hard to believe but July is almost over and for many of us who have been around fishing, this July 2008 will go down as the most non descriptive month in terms of how the fishing is. I have never heard the lack enthusiasm for fishing as I hear from many people I talk to about the fishing in our area. Oh yes there was a great striped bass caught off a party boat on the east end, and a few flashes of some very nice trophy fluke being caught, but both bottom fishing and offshore top water fishing has been very quiet.
For me the most amusing thing I can remember doing the month of July has been following the A-Rod traveling circus on TMZ and Star Magazine and how this married immortal ballplayer cannot even muster up Jeters sloppy seconds. Goes to show you the power of Kabballah and a 50 year women who keeps herself in incredible shape.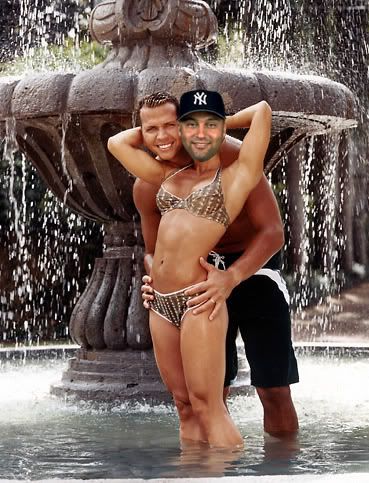 First I have been doing a little poking around after I had a little 'give and take' on a thread concerning the state of cod and if in fact, the fishery has collapsed. Turns out there have been a few notable boats written on this, but they turn out to talk about the collapse of the cod fishery and the chilling effect to the people who worked in the coastal towns who depended on the winter king.
Servants of the Fish- Myron Arms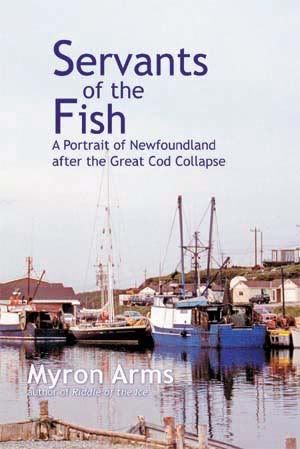 Though it was written about Newfoundland fishermen, the places and events transcend to us right here on the northeast coast of the US who have experienced the same diminishing amount of codfish. Interestingly in the excerpt, it opens up with a group of fishermen gathered together at the dock awaiting the bad news by the Canadian Federal Minister of fisheries on another round of cuts, and how the fishermen automatically reacted by instinctively preparing for the worst.
Another book passed onto me about this topic:
LAMENT FOR AN OCEAN The Collapse of the Atlantic Cod- Michael Harris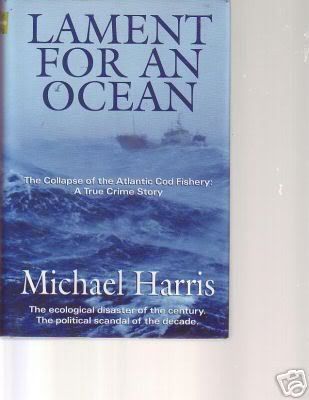 On the cover it states 'A True Crime Story', and it seems if you do a little poking around on the demise and collapse of the cod fishery, you will continually see the terms 'wanton', ineffective and weak fishery mis-management, greed and destructive special interests, lack of foresight, along with the anger of fishery scientist, fishermen and conservation groups who have been a part of the destruction or shall I use the phrase that sums up 400 years, allowed and watched as 'WE' fishermen
?vacuumed? the ocean floor for this prized fish.
I just like to point out that in particular if you do read these books, these stories are not about fishermen who want to catch every codfish in the ocean. For the vast majority of fishermen who have chased cod since the age of the Vikings, this was about survival of their families and the people who lived in the coastal towns that border the North Atlantic. From what I have read, both the codfish and fishermen co-existed for hundreds of years, both returning like clockwork to there traditional grounds on till technology and the unending growing fleets that went beyond the Portuguese, Spanish and Norwegians were now joined and competing with the Canadians and other European fishing fleets.
The scales were tipped as fishing boats became larger, the nets became bigger and better designed, electronics become a staple on every fishing boat and the fishermen?s knowledge base on where the richest cod grounds where became greater. No longer would a handful of dory boats launched from a mother ship be able to fish in relative obscurity on the Grand Banks, and load up there tarred lines with codfish. The offshore fishing grounds were gradually becoming a mixture of various nations of fishermen who spoke different languages but who all had one thing in common....and that was to catch the most codfish as possible.
Who knew...who knew that after World War II that the cod fishing we had here right off our shores was the best we would ever see again, at least in our grandfathers, fathers and for some of us, our lifetime. Oh, there are people who can tell you the stories of the cod fishing post WWII. They are still around, old men who will tell you how the codfish would roll in the surf chasing the bait off the shores of Long Island as early as mid October, and how thick the pollack were on many of the wrecks in sight of our beaches, or how we had haddock here in fishable numbers into the early sixties. Hard to believe that this was what we had right here in our little part of the ocean.
Finally if you are going to add some other books to your summer reading list, take a GOOD LOOK at these two which touch a little closer to home:
AGAINST THE TIDE: The Fate of the New England Fisherman- Richard Adams Carey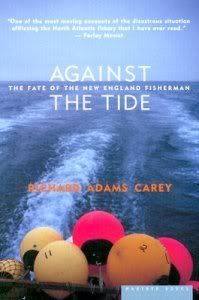 This is a great read about the small time fishermen from Cape Cod Mass., who are born into a profession of solitude, hard work and adjusting to the whims of catching fish and making a living from doing so. The sad part though that a perfect storm against the small time fishing is brewing as inshore fish stocks decrease, regulations increase, and a way of life for many is gradually disappearing. I know my friend Loligo can identify with this story.
One last book was sent to me by Bill S., and it is on my next order out to Amazon within the month.
The Doryman's Reflection: A Fisherman's Life- Paul Molyneaux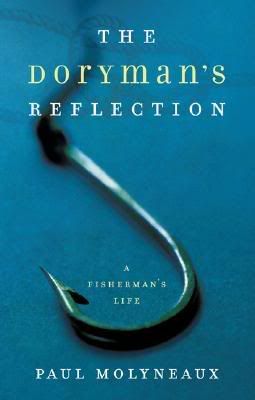 This should be a automatic read for any New England fishermen since it focuses on the inshore Maine ground fishery that has been around for hundreds of years, but was drastically transformed within two generations to a shell of what it once was. In particular it was noted and there are a few people on this site who have told me that much of the fishing right on till the late seventies was done in sight of shore since the grounds were so rich in fish life.
If their is one theme that each of these books brings to the reader is that fishermen can make drastic changes to our oceans and that what each of us does has a great effect to what is in our oceans and off our coasts. All fishermen wonder why we are in the tenuous state with almost all our coastal fisheries, where many have no choice but to leave this beloved way of life that they have made money and a living from. There are many who have done well and made a great living from the catching and selling of fish, but even those who are set for life say 'I am glad I have already made my fortune'.
That should be statement to remember because for many of the younger generation that are attracted to the water and of catching seafood, the future is very dim. Yes as my friend Hungry Jack has told me on a few occasions that in five or ten years, fishing will be much better.
Of course I think to myself 'fishermen cleansing' by our state and federal fishery agencies are continually squeezing the life out of every fishermen and every fishing business within our great land and that with fewer fishermen on the water, there will be more fish in our oceans.
There are lessons to be learned, and as one of my mentors would always tell me 'learning from your mistakes is your best teacher'. As the books above describe, our ancestors set us on this path which has resulted in the troubled fisheries that we are now in the process of trying to rebuild. Just reading the excerpts in all these books does not leave one with a good feeling after you put the book down. It is painful for every fishermen to read about the demise of a fishery, or as some would say here, collapse. But I know it is more painful to those who made a living from catching fish from the oceans and are now wondering what they are going to do for the rest of their lives to support themselves and families.
Picking up these books will give us all a greater understanding to both sides of the issue, balancing the catching of fish by technologically advanced fishermen. Hopefully the outcome will better for the future generation of fishermen who will benefit from the mantra:
To improve the future we must learn from the past.....
MY VIRGINIA COMMERCIAL FLUKE TRIP- BEING SCHOOLED & HUMBLED
A few weeks ago I traveled with my family down to Virginia to see a close friend in the wholesale fish business. Knowing how I enjoy fishing with this one commercial fishermen he set me up on the Saturday of July 4th to fish commercially for fluke. His teaser was 'I just got a call from Keith and today he put 175lbs of premium large and jumbo hook and line fluke in his big cooler...your going tomorrow morning'.
Alright, after much give and take about wanting to visit some other commercial fishing friends I know there, I woke up at 4 and met Keith Cassiano at my friends business at 5.
We picked up the bait which was a bunch of croakers which we would fillet into strips for bait, a few barrels of ice (yes barrels), and away we went down to the dock.
Upon arriving it was pretty dark...strange for six in the morning in the early summer when the sun should of been up. But from what Keith told me was that this has been pretty much the way it has been for awhile down in Virginia Beach and the other southerly coastal Virginia areas since the Dismal Swamps fires in North Carolina have grown so large, that it sends a fog like smoke when the wind blows from the southerly quarter.
Wow that's nice to know, as I was choking on smoke that instantly reminded me of my time sucking down almost similar like fumes, that many of us who worked for months at Ground Zero became accustomed to breathing.
We waited for a while, got the tackle ready and then Keith motored myself and the mate out in smoke that was the equal in thickness to any Montauk or Cape Cod foggy morning. Pulling out of Little Creek where the Navy has a number of their warships was interesting as all of a sudden you would see a big gray mass pop up that was tied to the dock as we went traveled into the Chesapeake.
As soon as we got into the Chesapeake it was a slow chug to pass under the Bay Tunnel and then out to the shipping channels just west of where the Cape Henry wrecks are, which would be the area where would be fishing this day. I was excited, peaking into the prior days cooler like a little boy, pushing the ice away to see pristine hook and line sushi-quality large and jumbo fluke.
I grabbed one of his outfits, and he had a number on board. Keith had on his 25 foot Parker a floating tackle shop with more teasers, sinkers, hooks and fishing rods and reels then we ever carried on our boats when I regularly fished.
He told me to pick out any outfit, grab a 12 oz sinker and place the rod in a holder when you hit the bottom. Strange to me and I told him ok 'but I prefer to hold my rod like many of us do in New York when we fish for fluke'. Keith didn't push the issue and allowed me to do whatever I wanted to put fish in the boat.
I also got my new Cannon 1100 camera ready (thanks Mike Togmaster) and my new voice activated tape recorder so I could take notes throughout the day, being ready to have a number of pics and even a small movie file of the great fishing day I was expecting. Well that should be the tipoff since whenever you are over prepared and loaded to the gills with equipment the lousiest fishing usually occurs!
Needless to say we started making drifts through the Baltimore shipping lanes and loading up on the biggest spiny skates I have ever had the pleasure to catch on hook and line. As I constantly cranked these spinning kites off the bottom, Keith and his mate were catching a occasional barely keeper fluke, again having them hooked while the rod sat in a holder on the boat.
Immediately after a few of these spiny beasts, I cut Keiths rig off and immediately started to make my own custom Geoff 'Ocean Eagle' sliding double hook fluke teaser rigs. Keith commented in a polite way on how 'pretty they looked' and they sure did, but they only resulted in double headers of these hard to unhook skates.
Yep, EC was looking like a newbie, barely catching a handful of barely keeper 14 and 15 inch fluke, while Keith and his mate had a bunch fishing with rods kept in the rod holder. I was questioning myself since years back when fishing with Keith when he had his 25 Aquasport, I would beat the pants off my buddies John and Joe who I would bring with me to Virginia to fish.
It was during this humbling process that I spoke to Keith a man in his late 50s who looks half his age and dresses with flip flops, board shorts, a well worn ball cap and wears a nice GAP style hoodie when he fishes. Keith just retired a few years ago from working in the Hampton shipyard to fish full time commercially. As he said, little did I know that fishing was not what it used to be here when I retired!
I asked him why he made that statement, and he said plainly without any anger or bad feelings about how his lively hood was changing, 'fishing used to be about going to the store, loading up with ice, getting the coolers ready, going out on the boat, loading up, running in and packing out and dropping the fish off at my buddies shop'. The process was repeated when he had free time off from his other job.
Keith did that for years like many other commercial fishermen in Virginia, and no one thought things would change so drastically. He said that sea bass which was the key linchpin for many pin hookers in Virginia has virtually disappeared.....Keith then pointed to the back of his boat and said I used to have a big X-Acta box sitting here on the rear deck and had no problem filling that up in the spring, fall and winter. Now I go out, run offshore 50 or more miles and have trips where I barely break 100 lbs!
He pointed out like many others from that area that hurricane Isabelle changed the whole offshore dynamic for sea bass, pushing the fish north of Norfolk Canyon and bringing up more blue line tiles, snowies and wreckfish then anyone imagined would be on the deep water wrecks. I was excited to hear about that while having my fingers raked by the skates I was pulling off my double hooks rigs, but Keith quickly said, 'that's not my fishery and I don't have the rig to constantly run off into that deep water along the edge to do that fishing. Besides I don't have the permits nor do I want to do that fishing because I don't want to get caught in anything nasty especially in this boat....it's a long ride home in a stiff wind and big sea from that area'.
I asked about blackfish and he said, they are highly regulated and no longer can you just go out on a whim to the Cape Henry Wrecks (imagine fishing the ripping currents of the east end of Long Island Sound with fiddler crabs when you fish these wrecks) or fish the Islands (there are 4 islands and this is where the 2 tunnels for the Chesapeake Bay Bridge are) and load up the 151 with Tautog.
Finally I said how about fluke? Your considered one of the specialist here.
He said the fluking has been inconsistent, and only started a week ago with a good run of fish. Just look at today he said to me as we took a peak in the other cooler where we ended up having barely 25 pieces of just barely legal commercial sized fish. 'I have two mouths to feed on this boat, and expenses, and a Yamaha engine not running right were I can power drift when I need too'. 'It is not like the past where I can count on loading up every trip, and in Virginia where there is NO TRIP LIMIT on summer flounder, you can make a very good days pay when the fishing is right'. 'Right now the fishing has not been right'!
Changing the subject from fluke back to sea bass, I said it cannot be that bad. Keith started to tell me stories about the sea bass potters even being so effected by the loss of this fish....he told me how my buddy who owns the fish house would employ these guys at times to pack fish so that they can make a days pay....'it's so bad that I am considering selling my ITQ' (Virginia has a individual quota based on historical landings on sea bass). 'I took my big box off the boat because it does not pay to carry the weight of this thing because I cannot fill it up anymore. These days it's about just enjoying the day and just letting them come as they come...you make a few bucks some days, and you have days like this where it's just another day on the water. It's at the point where I have to decide on whether to fix this motor or buy a new one, and you know what one of these hand-grenades cost. With the fisheries in such a flux, it's not a automatic decision now to make any investment into new expensive equipment at this time'.
By now it was a little after 12 noon, and the Dismal Swamp fog was not as bad as it was in the morning. Keith made a move to a area where there was some craggy 'junk strewn bottom' as he called it along the southern channel where he hoped there was some better fishing. He motored there and we fished and this time it was the endangered spiny dogfish we were now catching.
I was beat, with my fishing muscles exhausted from fighting with the spiny skates and now spiny dogfish which seemed to target me without abandon. For Keith and his mate, they would catch a few, but me holding the rod it was like I was actually targeting these things.
Finally I put my rod in the holder and said the day could not end any sooner as I started to pack away my camera, sans pictures and took the batteries out of my voice recorder. There was nothing to note about any tips or techniques to pass along to the masses.
I stared at Keiths tackle, simple off the rack store bought rods with old time Penn 9, 109s and various other cheap Penn, Shakespeare and other odd lot reels more appropriately found at a tackle swap meet then on a commercial pin hook boat. I then took the big round roller ball sinker off my rod, and wrapped the hook around the roda and reel like I used to do with the rental party boats...."Days over for me, that is it"!
Keith being the gentlemen he is said yep there is nothing more we can do as the tide was not right and the beasts from the deep readily enjoying the fresh croaker fillets we were dropping to the bottom.
On the ride back I sat outside on one of his coolers not caring as it again started to rain. I did not care as I felt that I was taken down a notch with my 'so-called' fishing skills that I talk about here on NOREAST. Yes, humbled was a good word that I keep repeating because I felt that I was fishing in a different ocean for a different fish for the first time.
Thinking it about it now you always say to yourself, what I could of did better or what did I miss to improve my fish catch for that day. Here I was noticeably outfished by these two commercial fishermen who just had a simple rig, dropped their lines to the bottom and stuck their rod in a holder and awaited a bite. So strange, and so foreign to say the least.
But now there was a lesson to be learned, and I realize that sometimes you have to put to the side what you know, and just follow what the regulars do, even if it goes against what you have experienced over the years. These men fish every day, and just know what to do to maximize their catches. I should of realized that, but I allowed pride and hubris to get in the way of just going along with the program.
Learn from my mistakes when you fish new areas...sometimes you don't know as much as you think!
Stress Break:
SNIFF-SNIFF- GARM REPORT- INITIAL REPORT IS NOT GOOD-
Among the various books I have been reading
No Lights, No Sirens: The Corruption and Redemption of an Inner City Cop- ROBERT CEA
, I recieved the latest copy of the COMMERCIAL FISHING NEWS and the lead story:
Groundfish stock status stuns New England council
I don't know of any way to spin the above caption and on the first page of the printed publication the assistant regional NE office administrator made this right to the point statement:
"This is very sobbering information here"
For those who are just coming to speed with maybe the most important fishery issue in the northeast, GARM stands for the GROUNDFISH ASSESSMENT REVEIW MEETING which will become the definitive research document that will be used for Amendment 16 of the Federal Groundfish Plan. It deals with 19 species of fish, both fin and flatfish and provides the council with a hugh amount of data including the most looked at by fishermen, the biomass status of the stocks off New England waters.
If you read the CFN carefully you will find that fishery managers thought that white hake was in what can be called 'bad shape'. It turns out that 'several of the regions flatfish stocks might be in far worse shape' I quote.
Here is another article a commercial fishermen from up north sent me concerning this issue, and it may explain what is at stake at this time for the New England commerical and recreational fishing industry:
Key report due on status of groundfish - By BECKY W. EVANS Standard-Times staff writer July 20, 2008
Some may call it the perfect storm of fishing regulations and scientific data, but for the city's struggling groundfishermen it is anything but perfect.

Nearly halfway through a mandatory 10-year rebuilding plan for 19 depleted Northeast groundfish stocks, fisheries managers are facing a May 1, 2009, deadline to implement new restrictions that will keep stocks rebuilding to sustainable levels.

How severe the new rules will be depends on the results of a peer-reviewed report on the status and condition of groundfish stocks, which will be released by the National Oceanic and Atmospheric Administration's Northeast Fisheries Science Center at an Aug. 4-8 meeting in Woods Hole. The data will show how effective cuts in fishing effort have been to date.

Preliminary data does not look good for groundfish nor for the fishermen who harvest them by dragging nets across the ocean floor. Many flounder stocks, known as flatfish, are not as robust as managers had expected.

"Most of the flatfish stocks are doing pretty poorly ... in terms of abundance," said Paul Rago, a fisheries research biologist who works at the center.

Flatfish stocks that have shown weak signs of rebuilding include witch flounder, American plaice, Georges Bank yellowtail flounder, Cape Cod/Gulf of Maine yellowtail flounder, Southern New England and mid-Atlantic yellowtail flounder, Gulf of Maine winter flounder, Georges Bank winter flounder and Southern New England and mid-Atlantic winter flounder. While cod is still at low levels, haddock and redfish have made significant rebuilding progress.

"It's not a uniformly bleak assessment, but there is not a whole lot of real positive points," Dr. Rago said.
He said he doesn't expect the final data to look much brighter.
Rebuilding flatfish stocks will require additional management measures designed to make fishermen less efficient at catching fish. Examples of such management measures include cuts in already limited fishing days, reduced trip limits, gear modification and periodic fishing ground closings.

"That type of a system doesn't work well for fishermen," said Jackie Odell, executive director of the Northeast Seafood Coalition, an advocacy group representing fishermen and processors in New Bedford and other parts of Southern New England. "They can't afford to go out there and fish inefficiently, especially now when fish prices are low and fuel prices are high ... it destroys businesses."

Under current regulations, the average groundfish permit allows fishermen to go to sea just 48 days out of the year. In order to stay in the industry, fishermen have gone into debt buying up more fishing days, Ms. Odell said. Some have purchased groundfish permits attached to other vessels and then leased the days to their primary vessel, she said. Others have bought permits for non-groundfish fisheries such as lobster or scallops.

"No business can survive on one groundfish permit alone, or no other fishery in which to participate," she said.
The result is consolidation of the industry, with boat owners who have money or financial support buying permits from those who don't, she said.

Michael Matulaitis, who owns and captains the Fairhaven dragger Rosemarie, said additional fishing restrictions could push groundfishermen ? many of whom are gambling that they will make a lot of money when stocks rebuild in the future ? deeper into debt.

"People are hanging on by a thread right now and any more cuts are really going to take us deep," Mr. Matulaitis said.
Making a business plan, especially for the 2009 fishing year, is especially difficult for boat owners given the uncertainty surrounding future fishing regulations, he said.

Under the groundfish rebuilding plan, regional fisheries managers must introduce new fishing restrictions by May 1, 2009. The New England Fishery Management Council has been rushing to get the rules, known as Amendment 16, implemented in time for the deadline. In June, however, they were stalled when the preliminary stock assessment data showed that groundfish were not rebuilding as quickly as expected. The council voted to wait until the final data is released before developing the new rules.

Council spokeswoman Pat Fiorelli said the council realized it "could do a better job fashioning management measures" with the final numbers.

The delay means Amendment 16 will not be implemented until sometime between September and December 2009. With the council missing its deadline, it is unclear what sort of regulations fishermen will face when the 2009 fishing season begins May 1.

NOAA Fisheries is expected to step in with an interim measure that would govern the fishery until the council's rules are adopted. The default measure in the groundfish rebuilding plan calls for an 18 percent reduction in fishing days. It is possible that the agency could adopt the default measure or choose instead to extend the current rules.

John Williamson, fish conservation manager for The Ocean Conservancy, said it would be "absolutely unacceptable" if no action was taken to reduce the fishing effort on May 1, 2009. His environmental advocacy group is urging NOAA Fisheries to take an interim action that will "ensure the rebuilding program continues as planned," he said.

The group wants to see a combination of measures: cuts in fishing days (also known as days-at-sea), reduced trip limits, and differential days-at-sea counting, a program that charges fishermen more than one day-at-sea when they fish for a day in certain areas of the ocean.

U.S. Rep. Barney Frank, D-Mass., is meanwhile drafting a letter to NOAA requesting that the agency delay implementation of Amendment 16 by a full year. His argument is that an additional year would allow managers to coordinate the amendment with another set of rules that are required under the newly reauthorized federal fishing law, the Magnuson-Stevens Act. Under the act, the New England council is required to implement the rules ? which include setting annual catch limits for stocks and setting up accountability measures for when those limits are exceeded ? by May 1, 2010. The council was planning to wrap those rules into Amendment 16, but Rep. Frank says it makes more sense to wait until the guidelines for implementation of the rules are finalized.

To further complicate matters for fishermen and managers, the preliminary stock assessment data showed a downward trend in the overall productivity of the ecosystem that will affect rebuilding programs "in ways that are not yet clear," Ms. Fiorelli said in a press release.

Looking at 20 to 40 years of data, scientists found that for several stocks, the average size of a fish at a certain age is lower today than it used to be. For example, a 6-year-old witch flounder weighed less in 2006 than a 6-year-old witch flounder weighed in 1982.

"They are not growing as fast," Dr. Rago said.
Scientists believe something is going on in the ecosystem that is causing the fish to grow more slowly, but they aren't sure what it is and whether the impact is temporary or permanent. Potential causes could be that there is less forage food for bottom-dwelling fish or that water temperatures are growing colder due to ice melt from global warming.

"It's still kind of a mystery," Dr. Rago said. "It may be real subtle things."
The trend adds another degree of uncertainty to the future of fishing regulations. The finding that fish are smaller today than they were in the past could mean that rebuilding targets set for groundfish stocks are no longer realistic. It could also mean that fishermen have been allowed to catch too many fish in recent years. And it could mean fishermen can expect to see even more fishing restrictions in the future.
As North Carolinas Jimmy Ruhle stated:
"I'm absolutely convinced we're asking the ocean to do something it cannot do - maximize all species at the same time"...
Finally to sum it all up as far as the groundfish stocks and the rebuilding time tables, it seems that there will be greater emphasis on 'effort reduction' in the future to 'to achieve stock rebuilding targets'. What this means will be clearer once the final GARM report and recommendations are made. There are few winners here and anyone who fishes is waiting for further cuts in landings to try and straighten out the fishery crisis in New England.
SOME INTERESTING GOOD NEWS NEW ENGLAND FISHING REPORTS-
I don't know if many of you follow Tim Towers daily fish report blog, but just in the last week he had his yearly 'ULTRA' marathon trip. This trip is a special all day by invite only trip for the best jig fishermen who fish on the Bunny Clark during the season. Captain Tim runs this group of 'high-liner' fishermen out to the furthest reaches of the GOM to fish the deep in search of trophy fish.
Needless to say, Tim loaded up the fishermen with a extra ordinary amount of trophy sized white hake, wrenched up from the deep. His report can be read here:
Scroll to>> Tuesday, July 22, 2008 Ultra marathon trip report
Another interesting event was Capt. Richie Kessinger of the Star Stream looking forward to make his first trip up to Gloucester to fish with Greg Mecurio on the Yankee Captains on a Cashes Ledge Trip.
I spoke to Richie and he was really excited to fish with Greg, especially with the reports of excellent codfishing being done by Captain Greg on his trips. Richie was also going along with a group that included our own Marc P (CT WHITE CHIN) who worked with Richie on deck for a number of years.
Turns out the Captain Greg had to call the trip due to the impending rough weather from a offshore storm, and Richie though dissapointed, appreciated Greg making the call before they drove up to the Yankee Captains.
I also heard about Captain Phil Eastman Audrey Maes outstanding offshore trip where he just bailed the haddock for his customers...really outstanding fishing and of course haddock are one of the sweetest eating fish in the ocean! His catch was complete with cod, pollack and a monkfish.
Who says there are no HALIBUT out there?
A big congratulations are in store for Captain JEFF RITTER who had 2 last week a 165# and a 125# halibut out of Boothbay harbor on his new boat
sashimy
which he runs under the BINGO name. The smaller, if you want to call it a smaller halibut!!! was caught by a noted Maine fishermen Lester Paul.
Guys there is very good fishing up in New England right now and there is nothing better then cod, pollack and haddock fishing in short sleeves on these boats. Give these boats a call and make the trip. From what I have been told it is well worth it!
A FEW PICS OF SOME NOTE WORTHY LOCAL CATCHES-
Among the many things my friends and the crew from NOREAST sends me is some pics of some great catches. These pics were sent to me of some of the local fishing here.
This is 2 pictures of Harvey and another fishermen onboard his charter boat SOAKER out of MONTAUK with two OVER 10 lbs jumbo fluke, Harvey released both fish since he already had his bag limit. Great going Harvey!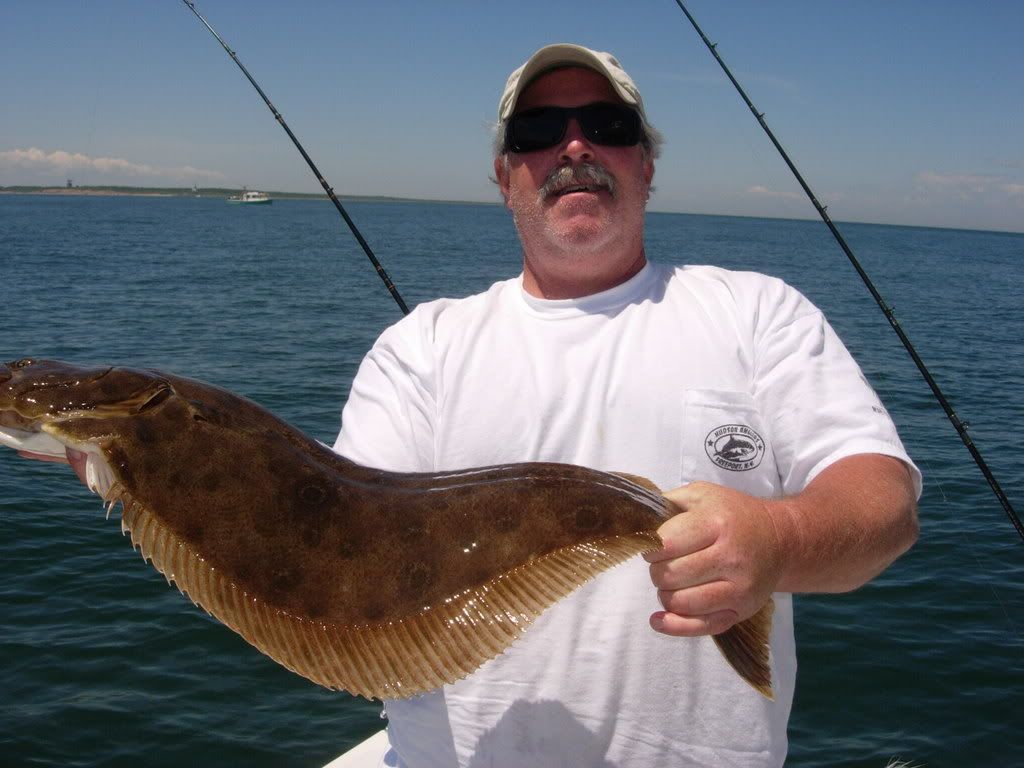 Who says there are no jumbo sea bass around out of the south shore of Long Island?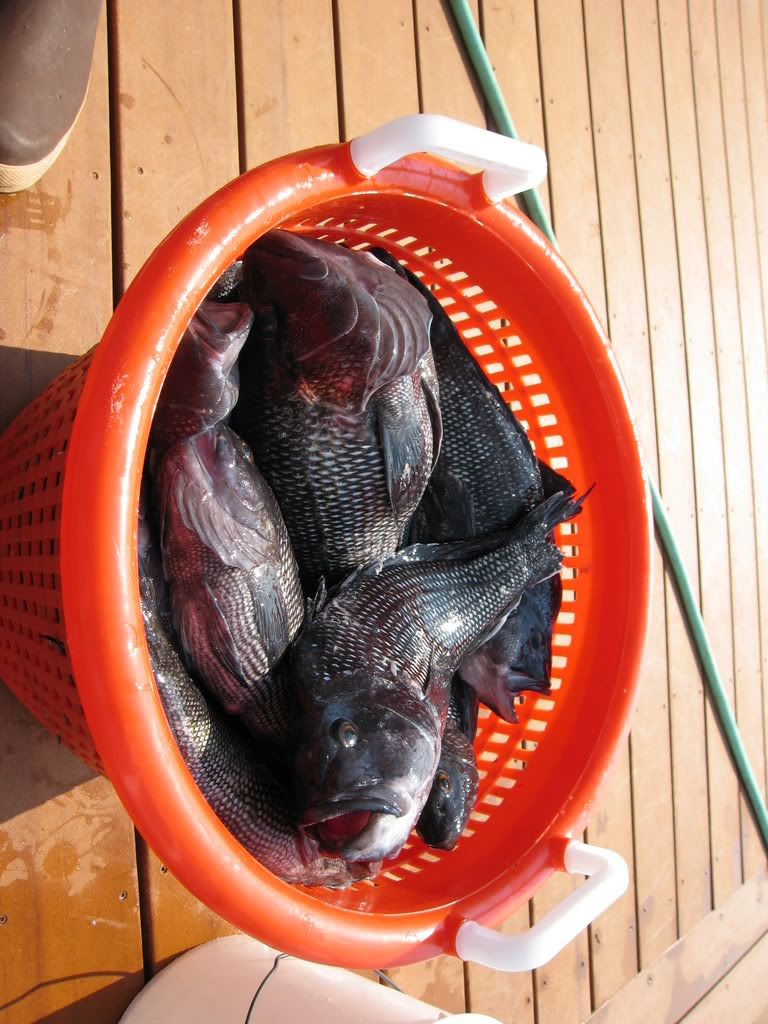 Here are some keeper fluke that were caught drifting right along the wrecks...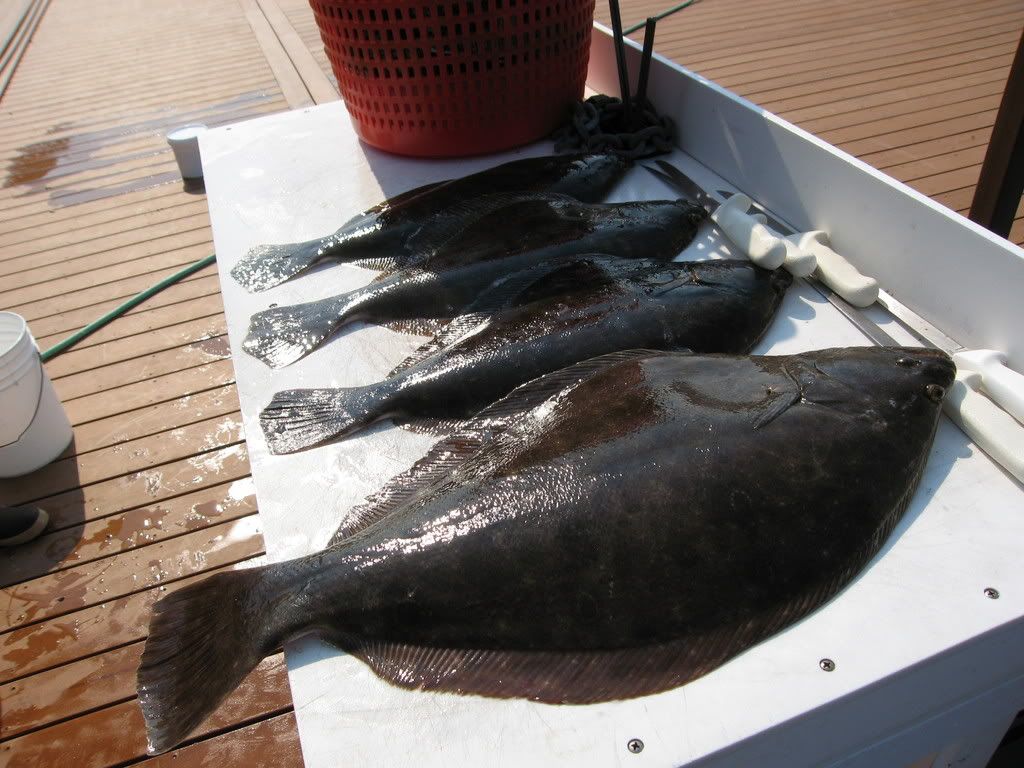 Guys you have to be 'in it to catch these fish'...support your local fishing boats!
I WAS JUST SENT SOME BAD NEWS ON THE LOSS AT SEA OF A VERY NOTABLE FISHERMEN - CAPTAIN PHIL RUHLE SR.
Phillip Ruhle, Sr., was still on the vessel when it sunk. The Coast Guard is still searching for Ruhle, an integral player in Rhode Island fisheries.
Goodness here is the story...big thanks to MS for this!
Sea Breeze survivor tells of capsizing, rescue-
Rayford Carr may never fish again.

In an interview with the Coast Guard, the 50-year-old New Bedford fisherman said he spent about three hours perched on top of a capsized fishing vessel last night, waiting for someone to come to the rescue of him and his crewmate.

Rayford Carr tells of his experience aboard the Sea Breeze. Watch video of the full interview with the Coast Guard.
They were returning from squid fishing about 45 miles off the coast of New Jersey when the Newport-based boat began taking on water. Carr and Anthony Hendrickson, 22, were rescued hours later by Coast Guard helicopters.

Their captain, Phillip Ruhle, Sr., was still on the vessel when it sunk. The Coast Guard is still searching for Ruhle, an integral player in Rhode Island fisheries.

"Everything happened so fast," Carr said in the interview, "it seems like it happened in a second."

Carr said he had eaten and was lying down when the boat began taking on water. By the time he made it upstairs, he said, the boat had tipped 45 degrees.

He worked with Ruhle, trying to steady the vessel that Ruhle and his son, Phil Rhule, Jr. take out to sea. But the 8-to-10 foot waves and the 100,000 pounds of squid in the boat may have been too much.

"The whole time the cap was trying hard to get (the boat) to come up," Carr said. "And he didn't get a chance to all for help ... it happened so quick."

Carr and Hendrickson found themselves alone, perched atop the sinking ship.

"We had about an hour to an hour and a half of sunlight. We were hoping the captain would come up," Carr said, "but it never happened."

Ruhle, it appears, went down with his boat.

Three hours passed, and then a Coast Guard Helicopter arrived -- it picked Carr up first, but was low on gas. Hendrickson had to wait for a second rescue attempt.

"I never want to be in a situation like that again," Carr said, "never."

"As a matter of fact, I'm done fishing," he added.

"That's it."
Here is the direct video to the interview with the crew member:
Survivor's account: 'I never prayed so much in my life, ' says Rayford Carr
Here is Phil Ruhle Jr, the son talking about the Sea Breeze and his father:
Fisherman's son says Sea Breeze captain had survived two close calls
Here is a picture of Phil Ruhle Sr. standing at the dock in front of his 80 foot Sea Breeze.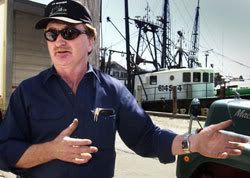 IN the article it was noted that:
Ruhle struggled in the pilot house to turn the boat into the waves before it capsized.
A tragedy to say the least....
Calm seas and great fishing Captain Ruhle....
After this story I don't have anything else to say...enjoy the summer...Right now I am trying to get motivated to write two articles, one on a special wreck trip which Captain Richie Kessinger ran that I was onboard, and another on a insiders look on the tackle for tile fish, and a few tips if you want to make the run to the tile grounds in this area.
Again, it's all about me getting motivated to take the time to put these stories together for you guys who read these articles.
A big shout out to my friend Rob COMM FISH....KEEP THE FAITH>>>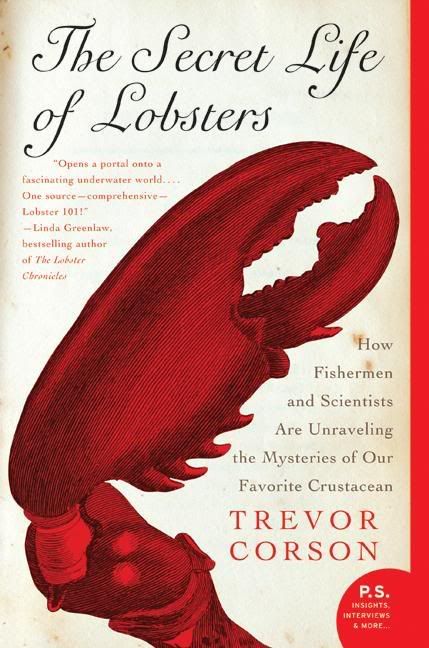 EC NEWELL MAN<><>
This post edited by EC NEWELL MAN 05:23 PM 07/28/2008