Discussion Starter
·
#1
·
Finally we are getting into the summer months, with the weather finally becoming more settled and fuel prices on the water making a big impact on the number of boats that are fishing these days. I know how bad it is when one of the people I work with commented on how they filled up a 30 foot Boston Whaler with twin engines, and took 200 gallons, and had a fuel bill of 1000 dollars! OUCH!!!! Anyway, this DOCK TALK is going to be a quick one on a number of things I have heard, read or seen since the last time.
YARD SALE WITH SOME OLD UNIQUE FISHING TACKLE-
One of our NOREAST members informed me about a yard sale she is having this weekend. Here is the following info on the location:
14924 Delaware Ave
between Murray Ave & 149th Street)
in Flushing QUEENS

Starting at 8 AM on Sat June 14.

Any further info contact Lois-

[email protected]
What makes this interesting is that she has a original black U-Needa Sidewinder reel which she is letting go, along with some old fishing rods and tools, along with other yard sale type of stuff.
If you are in the area it might be worth checking out, especially for those wanting to get there hands on a U-Needa Sidewinder.
STRANGE BUT TRUE-
Within the last two weeks, one of my good friends brought up something that I found very interesting and goes right to the heart of the negative effect of very stringent fishing regulations and high fuel prices that is occurring on the NOREAST boards....the amount of marine items being posted on the CLASSIFIED ADS board, and how this boards threads or shall I say posts, are changing (turning over) much faster then what is written within many of the other forums on NOREAST. The point he was trying to make, which is in fact bearing some truth is that fishermen and boat owners are more interested in selling, and in some cases buying bargain tackle, electronics and boats then in actually talking about fishing with other fishermen.
I for one have noticed that the WHEELHOUSE FORUM along with a number of other forums have had the same threads remain on the main forum board for a full day, if not more. Now I know it is not because our NOREAST members are out fishing, or have discovered free porn on the internet....
No, the problem here is that there definitely seems to be less interest in talking about fishing because of all the bad news with the economy compounded at the same time with such stringent fishery regulations which are destroying both the recreational and commercial fishing industry.
I have noticed too that many are not talking about fishing like they used to here in this forum and on this board....I cannot blame anyone either because there seems to be few good things to talk about within the fishing industry.
None the less, fishing is more about selling tackle and talking about it on the internet...fishing is about getting out and spending a day on the water, especially with family and friends. Let us all remember that.
A INTERESTING LETTER TO THE EDITOR ON FISHING ASSOCIATIONS-
In this months Commercial Fishing News, there was a small but to the point letter to the editor which truly illustrates how a fishermen joins a association thinking that their goals and tenets/principles are in his best interest of what he believes is best for himself and the fisheries, and then becoming dismayed and disgusted over time as the associations goals drastically do a 180 turn, selling out for something totally unexpected.
In his letter David Nadeau of Eastham Mass., writes that he joined
CCCHFA- CAPE COD COMMERCIAL HOOK FISHERMEN'S ASSOCIATION
ten years ago and is in his words, 'now embarrassed to admit it'.
One has to wonder why he would make such a statement within the northeasts premier commercial fishing magazine against a commercial fishing organization, but what he states in his letter should resonate with every fishermen on what these organizations become when MONEY becomes the over riding theme with their agenda.
Mr. Nadeau states,
I was fooled into thinking they were out for the good of all fishermen. All the while, I was being warned by my fellow fishermen in Gloucester and New Bedford that the CCCHFA praised the hook fisheries but put down gill netting and dragging.

After I straightened them out on dragging, which is where i come from, they lightened up. Then, after years of talking bad about gill netting, the hook fisheries collapsed and the gill netters came to them. The association took their money to build their empire.

This group is nothing but a tax-free organization that helps no one and uses grants from Pew and anti-fishing organizations and donations from wealthy people who think they are helping fishermen.
He points out, 'that when we went to them to challenge the closure of the GSC to the scallop boats, that we would have to come up with 20k to help us, while at the same time as the fleet is falling in great disrepair their offices are expanding.'
Mr. Nadeau also mentions how he was told to join the hook sector, and that was something he could not do, and latter would not even return his phone calls. His license was bought a year later by the CCCHFA from the fishermen he sold it to!
Finally he wraps up with this very chilling statement which should make EVERY fishermen think when joining a fishing organization or association:
I wrote this letter to warn other good fishermen to be very careufl of this orgnaization and what they are really about. They seem to have a lot of poeple fooled. I was one of them, and I hope my participation whle I was a memeber did not hurt or cause any hardship to any of my brother fishermen'.
Remember those words...they are heartfelt, and I REPEAT, speak very loudly to what happens to these groups when MONEY becomes the driving influence to that groups agenda.
WHAT HAPPENED TO THE RARITAN BAY STRIPER FISHERY?
For a number of years the Raritan Bay striped bass fishery was on par with some of the best on this coast especially during the month of May. The quantity and quality of striped bass caught in this area were just astounding with fish being caught along the Staten Island beaches, the western part of Raritan Channel, and in and around the lighthouse triangle of West Bank, Romer, and Old Orchid.
For some reason though, a sharp drop off was noticed in the fishery starting last year with both the number and size of the fish being noticeably down. Now this is not to say the fishery was doing poorly in this area, which is not the case. What is being stated here though is that the fishery within this area was not the old 'drop and lock' fishing that was seen over the years.
What was surprising is that almost all of these fish caught in this area come from the Hudson River which happens to be in pretty good shape at this time. So the question that should be asked, why has the fishery trended noticeably downward over the last two seasons?
Is is water temperature, a earlier run due to the warmer winters, or lack of bait?
What have you guys noticed?
One thing for sure though, this is no lack of bluefish in this same area over the last two years.........
TROUBLING SIGNS ON THE HORIZON FOR THE HADDOCK FISHERY ON GEORGES BANK?
There is so much truth in the saying 'nothing good lasts forever' and the same might be true of the spectacular haddock fishery we have had in the GOM and on Georges over the last few years. But in a ADVISORY put out by the
NORTHEAST FISHERIES SCIENCE CENTER
, they reported that the 'fall 2007 plankton bloom failed to develop on Georges Bank'.
Now many might not draw a connection of plankton to haddock, but plankton are the key or using the articles term, 'base' of the food chain, and that the lack of the fall bloom COULD result in fewer haddock in the coming year.
The haddock fishery has become the 'go-to' fishery for the commercial fishing industry, and is more heavily relied on by the recreational fishery at this time as a way to fill the bag, while cod stocks are trying to be rebuilt through very strict regulations.
Though this phenomena seems to be possibly caused by a cooler sea surface temperature in 2007, which is in contrast to the long term trend of warmer sea surface temperatures, there is no definitive answer as to why the plankton bloom failed last season. But nature does have a way of sending subtle signals on what to expect in the very near future, and this could be a very devastating blow to a fishery which has become a much needed shot in the arm for both the commercial and recreational commmunity.
Remember this little point here in the future. I hope they are wrong, but as the article stated, plankton are one of the major parts of our fishery ecosystem...once it is disturbed and effected in such a manner, the ramifications to other fisheries can and will be drastic.
SO WHY HAS THE BOTTOM FISHING BEEN 'BLAH' THIS SPRING WHEN WE HAVE ALL THESE FISHING REGULATIONS TO REBUILD THE BOTTOM FISH STOCKS?
Good question, and one that has had many bottom fishing captains why the blackfish, sea bass and scup fisheries off Long Island have had so few good days this season.
Everyone has noticed from Northern NJ to Montauk Point that these three fisheries have not been the same, even with 2 of them being closed during certain points within the spring.
No one has given me any good answer onto why this is happening, and while a number of experienced bottom captains point to a wet and cooler spring to more east wind then usual bringing in cooler water, the numbers of fish caught are certainly down this spring.
This leads me to something that was written about in a little article in the NY POST about the upcoming 2009 season and SEA BASS limits being drastically cut for the recreational community or a possible closure of this fishery within the next two years.
Hard to believe but when I asked someone who knows a little about this subject I was told that the council is looking at a closure of the fishery. As crazy as this may seem, it does sound for sure that the 25 fish bag limit for sea bass may end this year as this fishery is now on the table for a big cut.
Again I hope I am wrong, but there have been signs being seen in the winter sea bass fishery off our shores for the last two seasons. If we target the biggest sea bass in the winter, what is there to come inshore to spawn during the spring and summer, one could ask.
Sea bass have become the backbone bottom fishery here that is relied on to now fill the bags of anglers. It has also literally become a 12 month fishery where the fish are followed from inshore to offshore and back inshore during the year. One has to wonder how this one fishery can bear such pressure year after year.
Is there a way that we can keep the sea bass bag limit status quo, or like every other fishery do we have to sell out parts of the year to ensure we keep a reasonable bag limit for anglers?
Very troubling to say the least, but one fishery that has to be watched very closely.
Anyway till next time....
FIshing the way it should be....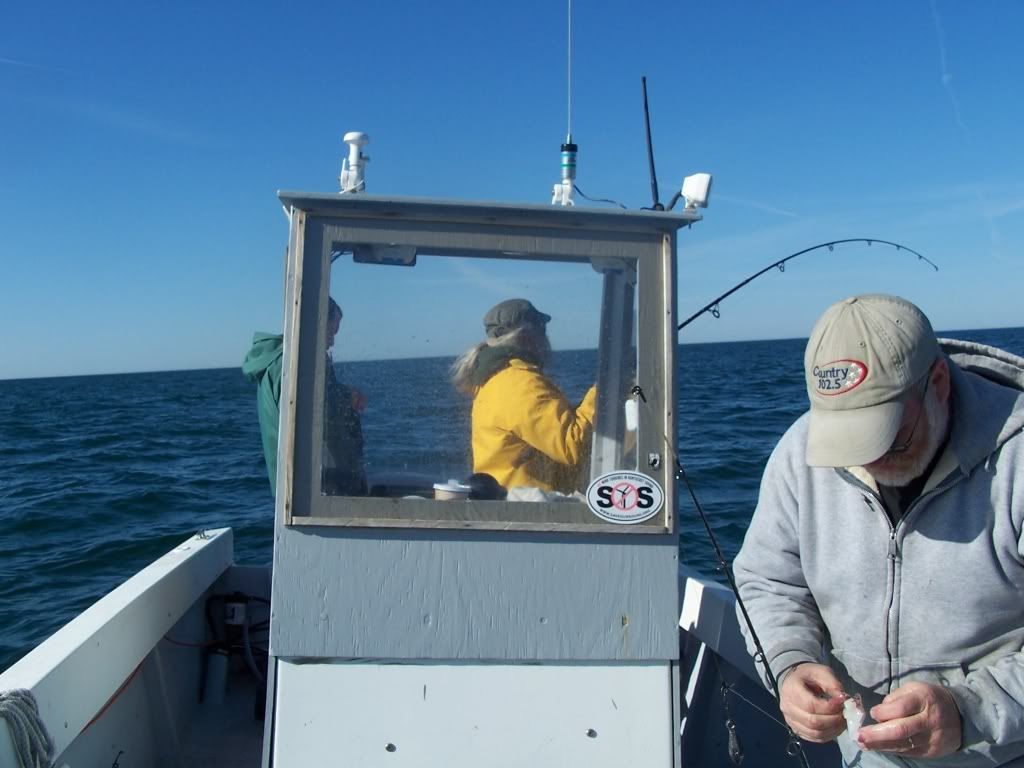 EC NEWELL MAN<>