Discussion Starter
·
#1
·
DOCK TALK #31- 6/3/08- SUBWAY CARS aka REEF GARBAGE, DOING THE RIGHT THING FOR A FISHING FAMILY, LOBSTER MARKETING & MORE-
It is hard to believe that we are now in the month of June, and fishing in the northeast has been to put bluntly, 'unspectacular' as far as what we are seen being caught and landed in our area. Whether this can be blamed to one of the coolest, wettest and windiest springs I think many of us have ever seen remains to be debated, but no doubt the forces of nature have played havoc with the time tables of fish migrating to there traditional inshore grounds. This combined with the utmost criminal rise in the price of fuel caused in most part due to market speculation in that commodity, and the continued tightening of regulations on both the commercial and recreational fishing industry has made 2008 the most devastating year for fishermen yet.
So lets take a look at some of the issues, events and scuttlebutt down at the docks.
SUBWAY CARS- REEF GARBAGE OR REEF BUILDING MATERIAL?
Just recently one of our moderators brought up within a WHEELHOUSE thread about whether or not Subway Cars are just a tool in 'spreading fish out' to new areas instead of increasing the biomass of particular bottom fish. This is the thread in question:
SUBWAY CAR ISSUE.
This topic has been brought up a few times on these boards, and most fishermen are in agreement that anytime that you add structure to the bottom environment, it is good for bringing BOTH fish and fishermen to NEW areas that were relatively devoid of marine life or fishing activity.
But the questions I want to raise is two fold, especially for New York anglers.
The first being is if New York States DEC again has missed a opportunity to attain reef building material such as our New York subway cars to improve the inshore fishing grounds in and around the NY BIGHT and Long Island area?
The second being, is whether subway cars are the best reef building material to put down in the shallow waters around NYC and Long Island?
To answer the first question, I just happened to have taken a shot on May 7th at 1 o?clock in the afternoon of a tug 'making-up' to a barge (literally it means preparing and securing the tow whether on the hip, pushing or on the wire) right off of the 31 Buoy in New York Harbor.
All was forgotten this shot on till I saw this picture in the New York Post a few days later of the same tug and one of our old New York Transit steel cars being sunk to make a reef off the state of Maryland!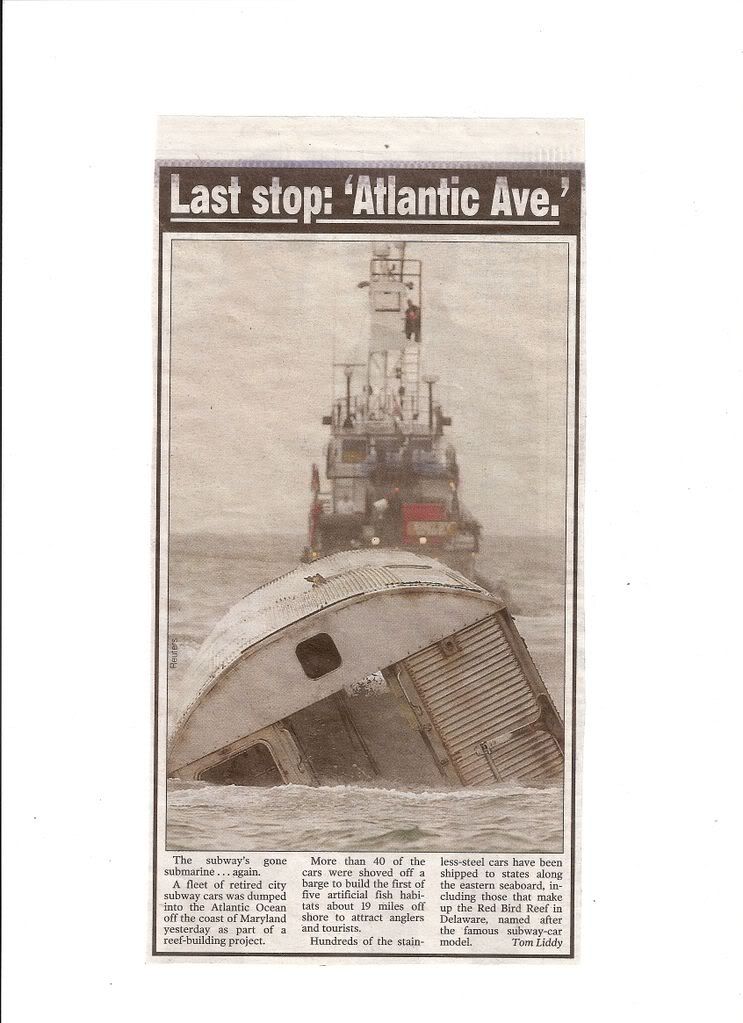 Now let me ask all you fishermen out there a question...maybe I am missing something, but why is our state of New York literally giving away subway cars, and as quoted in the article 'hundreds of stainless-steel cars' to other states, in particular Maryland and Delaware, to help improve there reef environments?
Aren't you outraged that this has been going on for a while as other states marine agencies are aggressively improving the fishing environment for both their fisheries, and their anglers?
I can name a few areas that could of used these reef building materials right off the top of my head, in particular off of Fire Island, Moriches and Shinne****, and around Port Jefferson, and the Huntington area.
Why does it seem that our New York State DEC is falling asleep at the switch in trying to improve the bottom environment by at least trying to take these 40 stainless-steel cars and dump them in areas where there is little of natural structure around close to shore?
But wait, before we start reaching for our digitalis medication, lets take a look on whether dumping subway cars off our inshore grounds is as good a idea for making new reefs as we first thought.
Anytime we dump anything purposely into the ocean, we can literally classify it as 'garbage', plain and simply speaking. We don't want it, and dumping not wanted objects overboard is a quick and easy solution to get rid of 'stuff' we cannot bring to a dumpsite to properly dispose of.
Subway cars while presenting 'structure' that will attract marine life to a area. may not be the best nor most effective reef building material that we have at our disposal.
It is well known among knowledgeable wreck fishermen that the best type of bottom is one that is low, non-metallic, busted up, and sunk in areas where fish migrate back and forth such as near inlets, channels or along bottom contour edges such as the 60, 120, 180 foot depths that we see marked on NOAA charts.
Even though subway cars will help in attract fish to any area where they are finally deposited, due to there relief off the bottom in shallow water, material that they are composed of and relatively smooth featureless shape, they are not as effective in attracting and holding bottom fish as compared to the concrete, rubble and rebarb debris that make up a number of our inshore reefs.
Now this is not to say that we should that these subway cars would not help our states reef environment...it would. But the most bang for the buck for these subway cars would be as suggested by our moderator in that thread, in depths of 120 feet or more to really take advantage of the type of structure that a subway car represents to the bottom environment.
Now since our states jurisdictional waters extend approx. 3 miles from shore in and along our south shore area, that usually means depths of under 120 feet. The bang for the buck in cleaning and preparing, transporting and dumping the subway cars to improve our inshore reef environment may not be worth the effort by our states DEC in gaining permits and approval to attain the subway cars for the NY State reef system.
It may seem like double talk here in that one can be upset in the New York State DEC for not going the 'extra-mile' in acquiring the MTA subway cars to make new and much needed inshore reefs, but is a stainless steel subway car the right reef building material to dump right off our beaches and shorelines?
A DONATION TO A FISHING FAMILY THAT WAS INVOLVED IN A TRAGIC ACCIDENT-
Over the years on NOREAST, I have seen a number of times where fishermen such as yourself are asked to send money to organizations to support this cause or that organizations agenda and future goals in influencing fishery issues. Just last year Bob 'Codkiller' alerted me to a fund championed by fishing vessel owner Tim Towers of the Bunny Clark concerning the Jimmy Fund which raises money for research into curing cancer.
Today among all the other issues I will mention within this DOCK TALK thread, this one reaches right down to directly helping a family, one in which lost a commercial lobstermen and more importantly, a father to a family who along with his son and another crew member had their vessel rolled over in large seas off the coast of New Hampshire at the Isle of Shoals Duck Island.
These are a few of the stories on this incident, with one having a video which talks about this tragic event:
May-13-2008- Coast Guard Suspends Search For Missing Lobsterman
Son lost grip on dad in icy water- Union Leader Article
Search for lobsterman ends, 2 saved- With VIDEO
Family, friends remember lobsterman who drowned
A Google search for more articles can be started here:
GOOGLE ARTICLES ON CHRIS TOBEY LOBSTERMAN
Needless to say, there are a number of stories of this tragic incident last month that can be found on the internet, and it should remind everyone of the dangers inherent in fishing, especially for those who livelihood is dependant on what they catch from the sea.
Being one who is still involved in search and rescue operations for people who enter the water, whether voluntarily (EDPs) or not, I do have a very good idea of how it effects families who loose loved ones from drowning.
Just take a quick scan of some of the articles I have posted here and make a decision if you want to send a donation to this family which has two children.
Again, I mention there are many times we send money to organizations or grass root groups, in which we have no idea on how the money is actually spent or whether it does help the intended cause. Money sent in support of a fishing family is something that will directly help these people who we may not know, but are a big part of our fishing community.
Here is the information on where to mail your donation:
NORTHEAST CREDIT UNION
c/o TOBEY FAMILY FUND
PO BOX 1240
PROTSMOUTH, NH
O3802
Checks should be made out to
TOGEY FAMILY FUND, account 56466806
This same information can be viewed in this article, at the bottom of the page on where you can send your donation:
Body of Kittery lobsterman found- Donations to benefit Christopher Tobey's son, Chris, and daughter, Amanda.
This information was taken and can be found in the Commercial Fisheries News- JUNE 2008
ALONG THE COAST section.
LOBSTERMEN IN MAINE PRACTICING MARKETING 101 TO GET A HIGHER RETURN FOR THEIR PRODUCT-
For most in the fishing industry, the dollar returns on there product over the last decade has ranged from stagnant to barely keeping in step with the rate of inflation. Most notable though is the effect to the lobster industry and how the return to the lobstermen on lobsters caught within northern US waters having not gone up in years.
Interestingly though was a article not published within a fishing magazine but on a financial site to high-lite how a few lobstermen are now packaging there product in new ways to increase there profit margins.
In less then 25 words the Ready brothers who own
READY SEAFOOD
have come up with a unique marketing tool where in consumers pay one up front fee of 2,995 dollars to have there own personal lobster trap in Maine waters!
Now the article can be viewed here:
A new hook for Maine lobsters
, and it should give a few ideas to the people who still remain in this industry on ways to maintain a profitable seafood business, while providing the American consumer with premium seafood products caught right off our coast.
In a nutshell or shall I say lobster shell and I am directly quoting,
the yearly membership fee, lobster lovers will be shipped every critter caught in their personal trap, with a guaranteed minimum of 40 lobsters. (If the trap is bountiful, the subscriber scores more crustaceans.) Each FedExed shipment of four or more lobsters comes with a pound each of steamer clams and mussels, lobster bibs, cooking instructions and a primer on Maine's sustainable lobstering practices
When I first started read this article, I said to myself who in the right mind would send 3000 dollars for a minimum of 40 lobster caught in Maine? Does it really matter if I eat a Maine, New Hampshire, or even a Canadian caught lobster? Would I know the difference from where these lobsters were caught?
But after reading this and another article
Sharing a Lobster- An online seafood merchant boosts sales by giving other Web sites a piece of its action.
I realized that there is a big and successful market for seafood consumers to go online and purchase lobsters and other locally caught seafood that will be shipped right to your door step.
It does seem on the face of it as a win-win situation for both those who can properly their product and the consumer who can have the best American caught seafood that OUR fishermen can bring to us. Now whether this will be a niche product that sells both to corporate interests then the general consumer remains to be seen, but for the seafood consumer it truly is a 'mouth-watering' and very satisfying way of getting a full years worth of lobsters and shellfish for dinner.
WHATS A DOCK TALK ARTICLE WITHOUT A FEW 'BACK IN THE DAY' PICS OF SOME OF THE GREAT FISHERMEN FROM SHEEPSHEAD?
Well I know I would not be here without some of the great rod and reel commercial fishermen that I am fortunate to personally know. I bring this up because of all the uncertainty within today?s local pin hook commercial fishing fleet which is fading away very quickly at this time. There will be many such as our children who will not be able to share the rail with these high-liners who have taught many of us the secrets and many tips to become much better fishermen. I will also point out that many of the topics and stories I have written about over the years were the result of these fishermen who took the time to show me a few things along the way.
For those that are 'CLUELESS', this happens to be two pictures or Stewart 'Red' Mark who is recognized by his peers as the best bottom fishermen in our area. Along with his partner Donald they became legendary fishermen, who made there living from fishing and are now retired from the industry.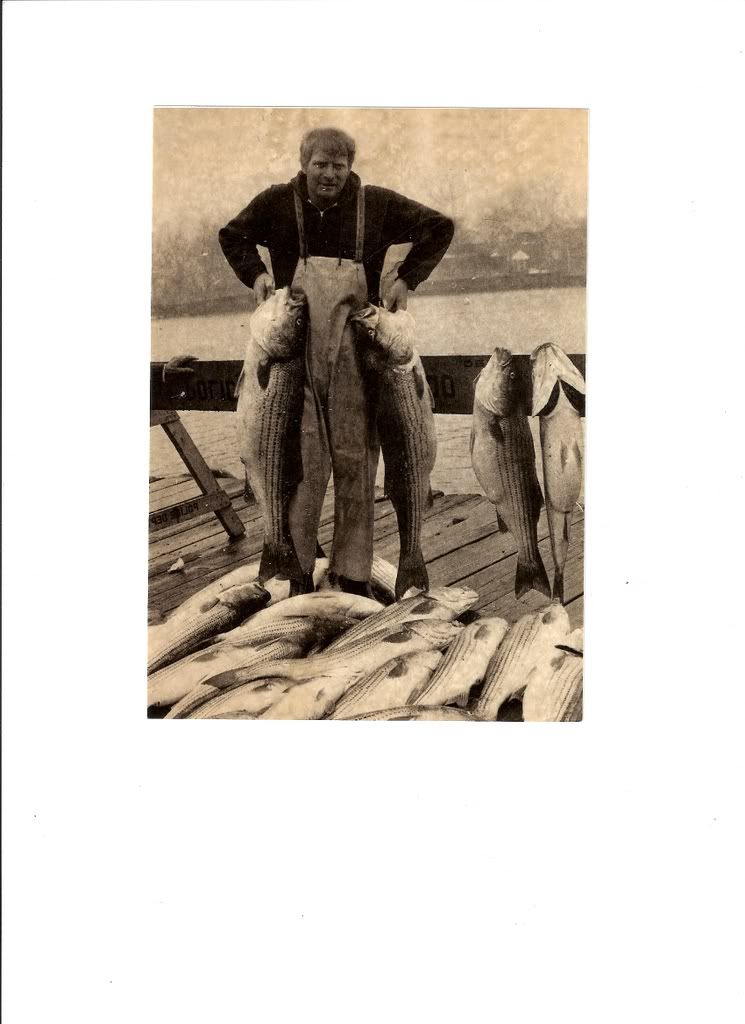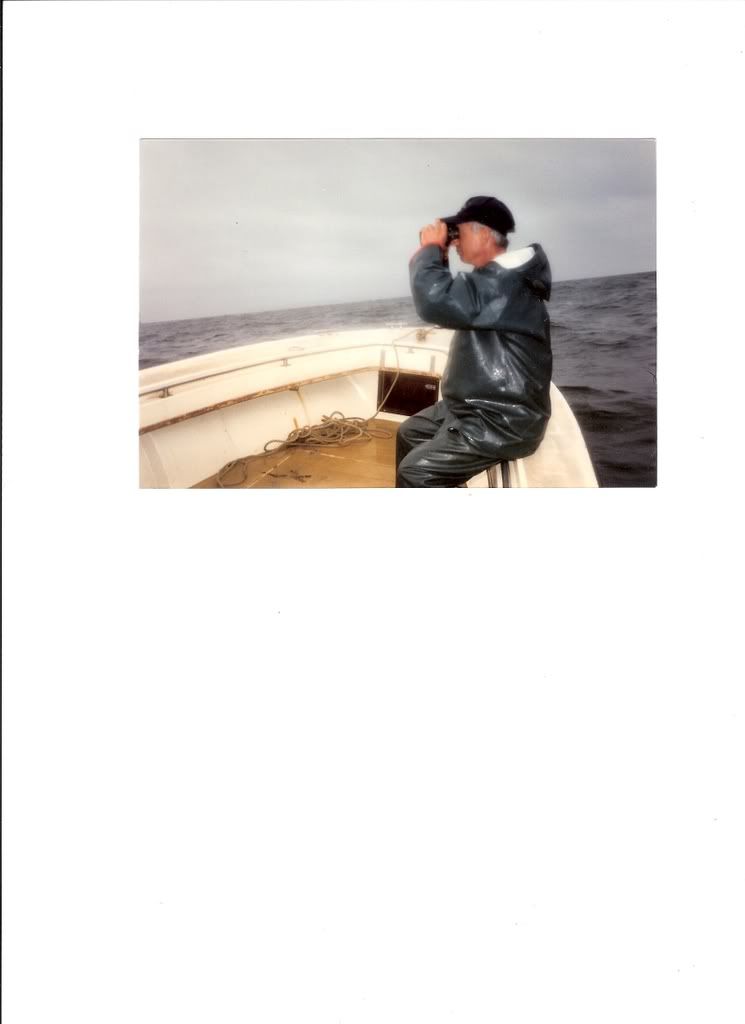 It was interesting in that when I spoke to Red about how poorly the recreational fishing industry is doing these days, he said that he truly sympathizes with the owners of the party and charter boats that have to deal with today?s regulations and cost of running a business. He also pointed out that he gives the recreational angler credit for still going fishing with the limits on many fish so small that they barely can catch enough for a meal.
For many of us who were around and fished during the last of the 'wild-west' fishing we had off our coast, literally all that we have is our memories and these pictures to show future generations on what a small boat rod and reel fishermen could catch boat loads of fish within site of the beach. I know future generations of fishermen will never experience the wide open fishing that many of us saw and participated in during those years, but at least they can read about the fishermen who used to make a living from catching fish with just a rod and reel.
A FEW QUICK SNIPPETS FROM THE BOARD AND MAIL BAG-
-On the Jumbo Scup thread...
I found it pretty interesting on what many fishermen thought a jumbo scup should weight, but I did find it more interesting that many were in agreement on the type of tackle that should be use. But I shall add that a few fishermen told me:
1)When using BRAID for scup, when you feel the 'sensation' of a large scup biting your line, don't stick, but just start reeling in.
2)If you think clam chum is the key for catching big scup, use Bunker chum, and watch what you catch!
3)Big Scup, use big hooks, and don't worry about using a 2/0 sized hook for jumbo scup. It keeps the piddler sized scup away!
4)Early season scupping requires the boat to anchor quietly in the shallows in such areas as Gardineers at the crack of dawn.
5)Big Scup will hover off the bottom most of the time, and not hold tight to it, especially later in the season.
And, the best area to catch big scup?
Well your just going to have to go fish with some of the best to find out! But remember, strong current areas are the key when fishing inshore.
-
RAP recommendations on mortality reduction measures?
I guess a few of you took a peak at the latest RAP (aka New England Fishery Management Council-Recreational Advisory Panel) summary that just came out. Basically the recreational industry MAY be looking at as much as a 70 percent reduction in cod fishing mortality. What this means that a 10 fish bag limit could be reduced down a 3 cod fish bag limit.
Now it seems that the impatience of the council of trying to rebuild the stocks quicker will mean in the very near future, increases in minimum size, tighter bag limits, closed areas, adjustable bag limits during the season, and or a shorter season or a combination of the above. No doubt there is no sunshine at the end of the GOM cod rebuilding trail at this time as it always seems that more cuts are thrust upon fishermen to rebuild the codfish stock.
*********This just in as of Thursday, June 5, 2008
Fishing reduction plan delayed
PORTLAND (AP) - The New England Fishery Management Council on Wednesday delayed consideration of a proposal that would further reduce the number of days at sea for fishermen.

During a meeting in Portland, the panel discussed a proposal that would reduce the number of days at sea by up to 70 percent next year. Critics including Maine Republican Sen. Olympia Snowe say those cuts would decimate the New England fishing fleet, which is already struggling.

"The proposals being considered by the council would have destroyed the hope to which fishermen have clung while their life's work has been whittled away. These proposals would have whittled it away to nothing," said Snowe, ranking member on the subcommittee on oceans, atmosphere, fisheries and Coast Guard.

Adjustments are required in 2009, the midway point of a 10-year management plan known as Amendment 13. But critics say the National Marine Fisheries Service has not completed its stock assessment on which the adjustments are supposed to be made.

In the end, the panel voted 11-1 to delay consideration of fishing reduction efforts until it receives the final 2008 assessment.
-
Nero fiddles, while Rome burns...
Hasn't this been the underlying theme of our fishery management agencies who continue the hardships on the American fishing industry in particular commercial fishermen whose very existence they continue to stamp out.
In particular is a story I have heard from a few commercial fishermen about the effects of the June 1st scallop closure for those with no scalloping history prior to 2004, which is being used as the control date. It seems a number of displaced southern commercial fishermen and vessels who were previously engaged in the shrimping and summer flounder industry from the states of Virginia, North Carolina have come to Point Lookout to fish for scallops under the 400 lb trip that is imposed at this time. While this is enough poundage to keep these fishermen and vessels fishing, it seems the government regulators have stepped in and basically shut these boats out that have been working and packing out of Point Lookout.
More to the point on how the smaller and independent fishermen is being systematically squeezed from the fishing industry, a Individual Fishing Quota (IFQ) will most likely be implemented in the very near future for the scallop industry.
Now I do not know much about this industry, nor the particulars in question but it was brought to me because of the outrage of the fishermen who have now are being shut out from this fishery due to this new rule making that can be read here:
Atlantic Sea Scallop Fishery; Amendment 11
For those who cannot wade through this bureaucratic mumbo-jumbo, this line in particular sums up what I have mentioned here:
It is unlikely that vessel owners would be able to comply with the
requirement to be issued a permit by June 1, 2008, despite their best
efforts. As a result, vessel owners that could not acquire an LAGC
scallop permit would be prohibited from fishing for scallops, or would be subject to enforcement action, through no fault of their own.

I know many have no concern about this, but if you want to see how convoluted and micro-managed the fishery management plans have become, take a look at the most recent Framework Adjustment to the sea scallop industry:
SMALL ENTITY COMPLIANCE GUIDE
Doesn't seem as complicated as medical billing these days?
-
"I am going out of business," he said. "I am absolutely finished."
This happens to be a common theme these days in both the commercial and recreational fishing industry. In particular this is a story about the devastating effects of rebuilding plans, without taking into consideration the impact to local fishermen and there local economy which is happening right now in Port Clyde Maine:
New England commercial fishermen are bracing for sweeping new restrictions that could be the most Draconian they've ever seen.
It is amazing in that they talk about a fish the white hake. which was seen as literally a 'trash-fish' a few years back with few recreational fishermen actually targeting this species.
More to the point is this statement:
Some stocks are further along the rebuilding curve and are substantially improving in numbers, but the practice of limiting fishing efforts by reducing the number of days fishermen can work has led fishery managers to focus on the weakest stocks in the complex,
Basically what is being asked of fishermen, is the most restrictive DAS allowance combined with a continued closing of more areas to fishing, even as fishing stocks start to recover.
This line sums it all up:
Craig Pendleton, a Saco fisherman who attended the advisory panel meeting in Peabody, said it's clear to him that Maine's fishing industry will not survive the proposals now on the table.

Pendleton said fishermen are already struggling to make a living with the current restrictions and the high cost of diesel.

Moreover, the lack of a constant supply of local fish has caused restaurants to search for markets outside of the New England to keep fish on the menus. As a result, fishermen are losing their market share and the ability to command a good price for their catch.
Haven't I brought this up before on how restaurant industry is also creating a hardship to the commercial fishing industry by not trying to support locally caught fish products.
Either way, this all looks like a long road of bad highway and few fishermen who make there living from the water will survive over the next few years.
Again I will state that Nero fiddles while Rome burns...those who oversee our fisheries are not in partnership with those who participate.
Remember those above words because our fishery managers are as bad as the weathermen who do not look out the window before they make their weather forecasts. We are in for a long and sustained period of 'fishermen cleansing', and many like myself wonder what we be left of the fishing infrastructure in our lifetime....
>>>>>>>>>>>>>>>>
TO J.R. " CANT MAKE A LIVING LIKE A BAYMAN USED TO"
<<<<<<<<<<<<<<<<
That is it for this DOCK TALK-
EC NEWELL MAN<>
This post edited by EC NEWELL MAN 05:44 PM 06/05/2008