Discussion Starter
·
#1
·
BIG FISH-SMALL BOATS-
I just corresponded with Captain Ken Mullen of the
SWELL RIDER-Sportfishing Charters
and he said the giant bluefin tuna fishing has picked up. The December fishing was fair as it usually is at that time of the year, but the January fishing is in full gear!
Ken forwarded a few photos from his last trip: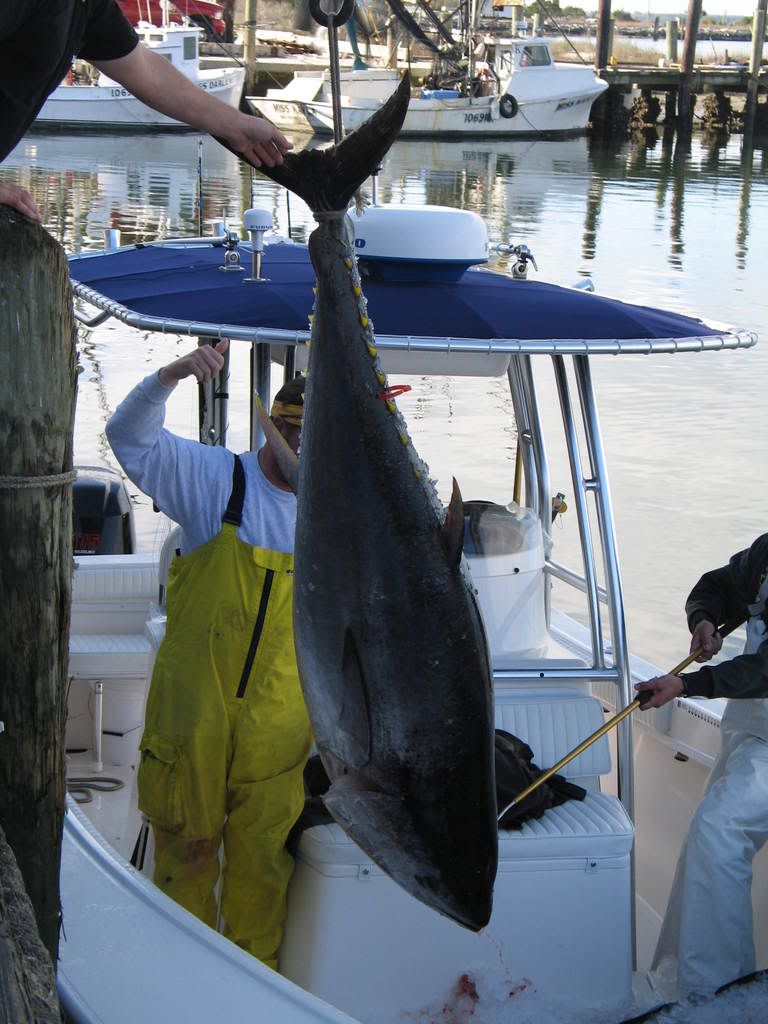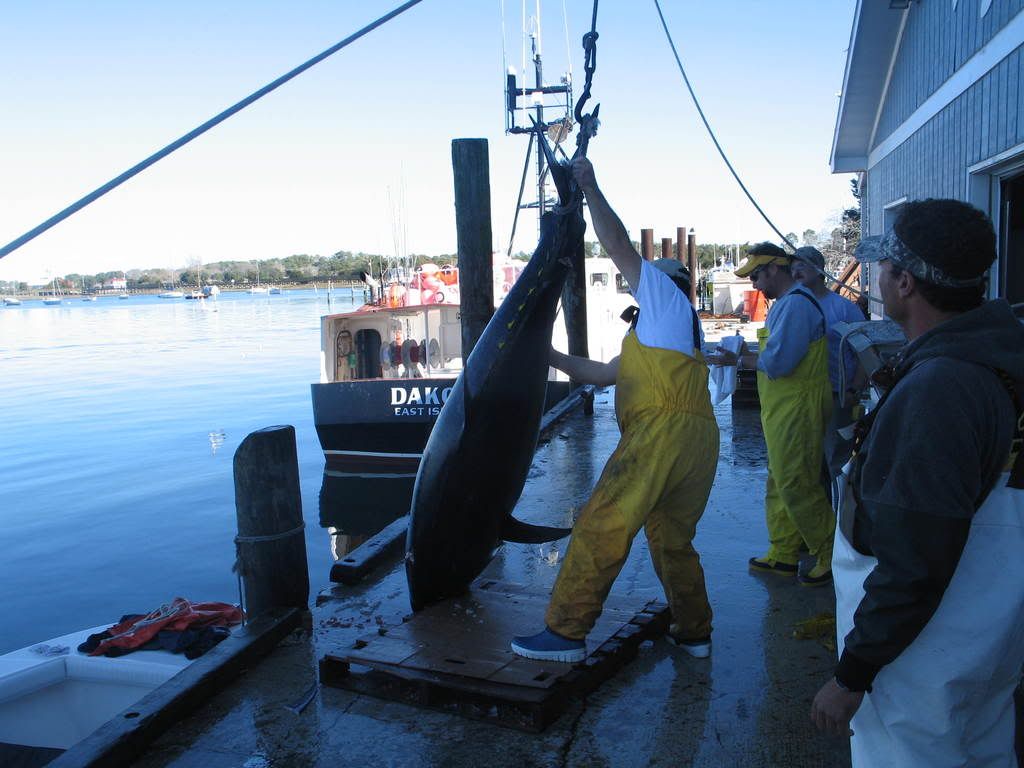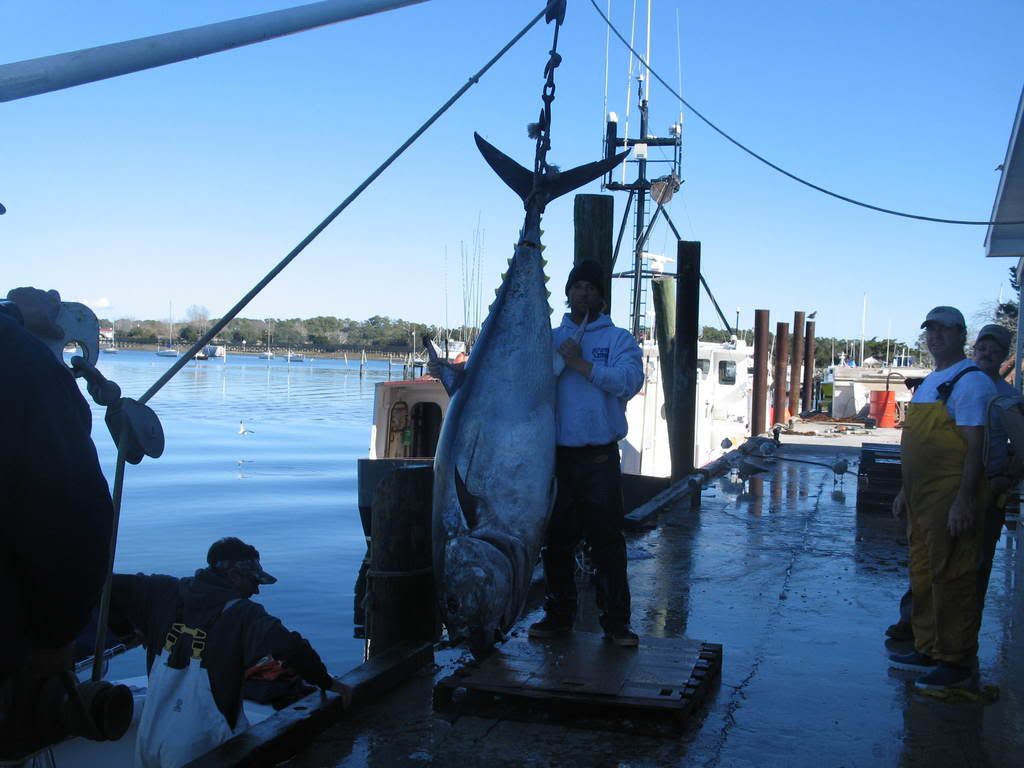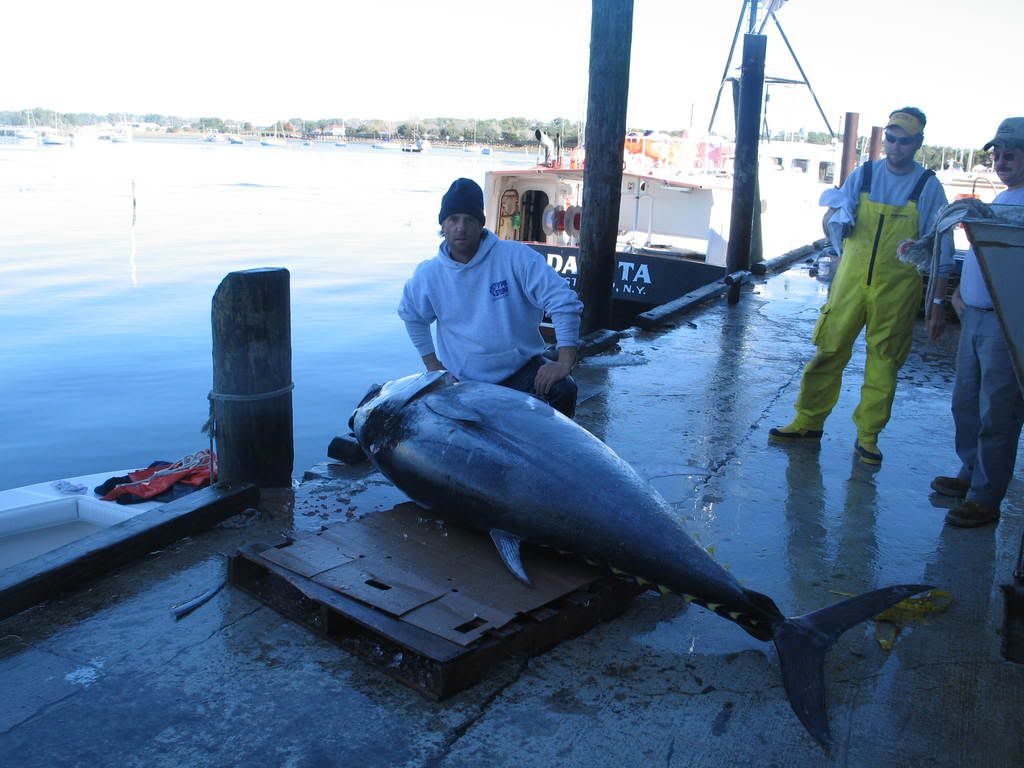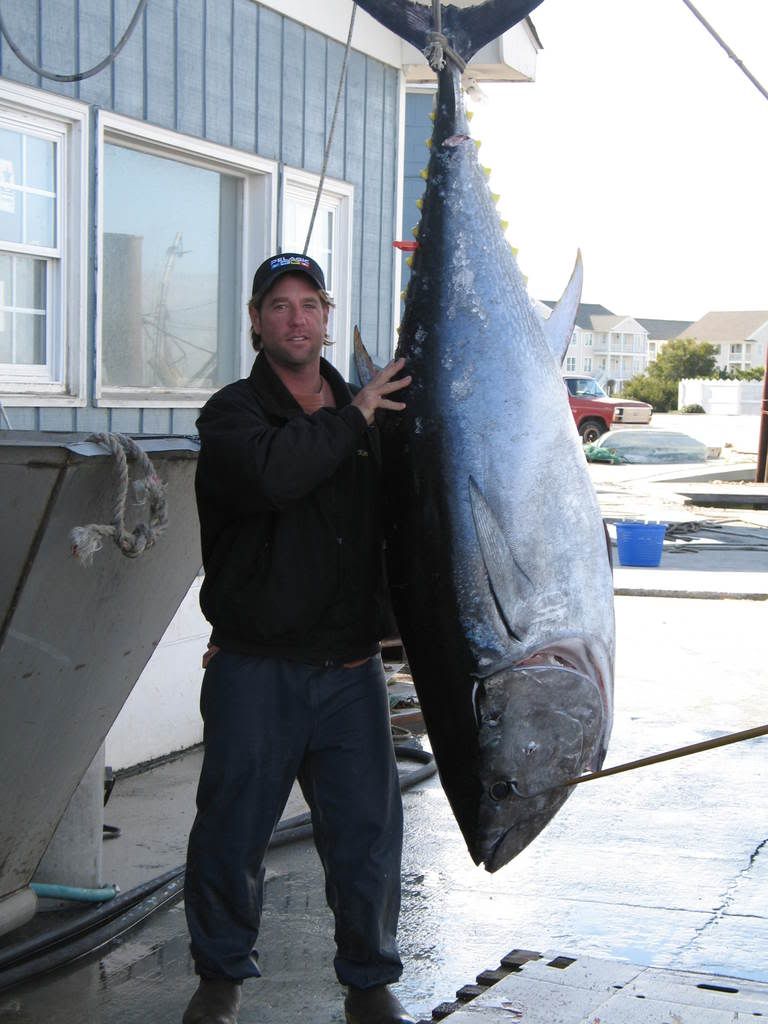 Anyone interested in fishing with Ken, should contact HIM directly through his website. A few guys have PM and emailed me asking what combination trips he will run at this time of the year. I do not know, and as he told me everything at this time of the year is weather dependent, on whether he can go offshore or inshore bottom fish.
Ken will give you a up to date fishing report of North Carolina fishing if you contact him.
I MUST HAVE A CRYSTAL BALL, BUT I CALLED THIS ONE-
As usual, when it comes to all good things coming to a end, it seems that the Golden Tilefish
RECREATIONAL
fishery will be looked into by the Mid-Atlantic Fishery Management Council, with a meeting scheduled to be held at 7 p.m. Feb. 6 at the Holiday Inn Toms River, 290 Route 37 East, Toms River.
Last year I stated in this forum, that the Golden Tilefish along with the Atlantic Wreckfish are receiving increasing and intense directed pressure from the recreational fishing fleet. Within the last three years, the offshore bottom fishery has now become a 12 month affair, with party, charter and private boats deep dropping for these two species.
From what we do know about the offshore bottom fish that live and travel along the canyons edges, areas that are heavily fished, do not fill in as quickly as they normally do in shallower waters. Just this year, it was noticed that the number of wreckfish that were caught in the deep, were noticeably down from prior years.
Golden tile fish catches fluctuated throughout the spring, summer and fall periods, and from people I talked to, the number of fish caught as compared to the prior 2 years, is down in the Hudson Canyon area.
Now this is not to say that the stock is overfished, but with what seems to be a year around fishery on these two species, and the publicity of the catches being brought to light, fishery managers are taking a proactive look at the fishery before their is documented evidence that overfishing is occurring.
Anyone interested in reading the official stock status on Golden Tilefish can go here>>>
Status of GOLDEN TILE Fishery Resources off the Northeastern US
To summarize as they have stated:
As of 2005, Thus, the stock is not in a overfished condition and overfishing is not occurring.
I will remind you though, in the state of Virginia following the lead of the
SAFMC-TILEFISH & GROUPER BAG LIMITS
enacted emergency measures for Golden Tilefish on 10/23/06 in Virginia waters to reduce overfishing by more then 1/3. Bag limits on Golden Tilefish and Blueline tiles are now in place in the state of Virginia with a aggregate bag limit of 7 fish per angler.
I do not know how restrictive bag limits on Golden Tilefish, and also Wreckfish will be in the near future, but I would imagine that a bag limit in line with what the state of Virginia has in place, being a good starting point on how many fish a recreational angler will be allowed to be in possession of in the near future.
Here is the link to the article in the Asbury Press>>>
Recreational tilefish fishery restrictions looming? January 15, 2008
WHEN 'BEST AVAILABLE SCIENCE' COMPETES WITH COMMON SENSE...WHO COMES OUT THE WINNER?
These days fishing, like baseball is measured in numbers....that is all we hear about, it's the numbers.
For the recreational angler, the numbers of fish that are caught, along with the size, is by in large the first thing we look at when we scan a posted fishing report.
For the commercial fishing community, the numbers play a much greater role.... What is being landed by this group, are the drivers that dictate whether a fishery is shutdown or remains open, or quotas tightened or eased.
But what if the numbers go contrary to what the fishermen are actually seeing on the fishing grounds? What if the numbers do not accurately tell the whole story on the health of a fish stock?
Is the 'best available science' a true measurement that should dictate and control what fishermen can catch?
I was just sent something by a commercial fishermen from up north which I found to be one of the most insightful explanations on this one commonly used term in fishery management.
Let me summarize as best I can what he is stating on this subject. It does get to the heart of the matter when science, which is supposed to be pure and accurate, is not, and that plain observation by the people in the field are a more accurate measure of the reality on the health status of our fisheries.
The problem lies when the scientists ignore the obvious and the fishermen don't understand where "best science available" is used. Lack of data leads to "best science" and that leads to assumptions that usually doesn't go well for the fishermen.

Classic example is dogfish. A few tows at the wrong time where they miss schools of females and now there is a huge problem. The scientists were ignorant in the fact that large females and males sometimes don't mix. Then all of a sudden they run into huge schools of females and they call it a anomaly. Like the females just appeared out of thin air.
He also brings up this point, which happens to be so true these days, and again goes against the governments 'be all and end all' statement when they use the term 'best available science'.
For the commercial fishing industry, blackback flounder are non existent in the bays and sounds in northeast waters but there is liberal and literally unrestricted quotas on them once you get off the beach, but Fluke which by the governments own surveys are at the highest recorded levels in decades, are in trouble with the tightest limits being placed both user groups?
So what gives? How is the best available science the 'be all and end all' on what can be caught and landed by fishermen when you have such great contradictions as these?
DO WE REALLY NEED A SALTWATER LICENSE?
This is not a new topic but any means, and it has been debated on NOREAST and other fishing sites up and down the coast, ad-nauseam. I myself have waffled on the issue (Yes I pulled a Mitt Romney on this), over the years, but the more that I look into fishery issues, and see who literally gets how much of the pie, I have come to the conclusion, that we need a saltwater license.
Just in the last week, I spoke for a while to a person extremely well versed in fishery management. I listened to all the pros and cons that have been brought up on this issue and then he basically said:
We really do not have a good accounting and idea of how many people actually go saltwater fishing in New York during the year...
This leads one to question 'how do we know that there are less people fishing in the year 2007, then in 1997 to 1987? Is there a true accurate number of people that fish on the party & charter boat...private boats, shoreline?
This brings me to the point of possibly why bag limits are being squeezed so tight, because we do not know if their is 500,000 or a million or more fishermen catching fish in this state.
Yes, I know that by federal law a saltwater license will have to be set in place in this state within a few years.
Yes I know that the saltwater license can be seen as another tax on fishermen.
Yes I know, that we probably will not see anything 'tangible' by paying a fee to catch saltwater fish.
But hear me out on this topic.
Commercial fishemen are controlled at this time by a limited entry system, which is the license and permits required for them to land fish. The government has a very good idea of the size of this user group, and how much they land and also discard when they fish.
This system ensures that the commercial fishermen will be constrained in their harvest of fish, because the government has a idea of the size of the size of the user group, and what they catch.
But how can the recreational community compare, when we don't have a accurate account of this user group who are fishing and catching fish?
The recreational fishing community can catch a untold number of fish during the season, and the best that we can do when we look at the numbers of what is caught, is literally 'a rough guess'.
How can I say that?
Just look at the number of private boaters on the water catching fish. Do any of them complete surveys on their daily catches.....and again, do we know how many are fishing around Long Island and New York during a nice weekend summer day?
Maybe the numbers would scare us....maybe their are more recreational anglers then we can possibly throw a number at for a nice weekend in the summer....and just maybe, they are better anglers then say the fishermen from 1997, or 1987, because of the electronics and knowledge they have from reading fishing websites like this.
It just leads one to ponder this question, if we actually knew how many anglers are out there, and the amount of fish they actually caught, and maybe the tight bag limits that we are now seeing these days, are not so bad after all.
But, that should not scare us from purchasing a saltwater license. The recreational community needs to be fully accounted for these days. Usually in numbers there is strength. Lets try to get better accounting of the number of people that fish, and a accurate count of what they catch and throw back. A fee for a license is a small price to pay for the future of our fisheries, and fishermen.
SO HOW COME YOU WEREN'T AT THE MRAC FISHERIES MEETINGS?
When it comes to NY and the various fishery meetings that are held at say Bureau of Marine Resources in East Setauket, you realize that you are dealing with a government entity that does not work in partnership with the people that they oversee.
Unlike McDonalds where the customer is treated like a king, our NY DEC, is a little lacking in this department.
This month on January 22, there is a meeting, but it's scheduled for 2 o'clock in the afternoon. Most of the meetings seem to be scheduled at this time of the day. Why are they scheduled at this time, when most fishermen are actually out fishing, I just was recently asked.
I don't know.
Maybe they want to get home before American Idol starts...again, I could not give this person a straight answer.
I was just told this morning by another commercial fishermen I speak to that their was a meeting this Tuesday...they called it a emergency meeting. He did not know, and only found out when another fellow told him.
I said, well if it is such a emergency, how come they don't forward a mass email to fishermen on a subscribers list, or use a automated phone system like we see the court systems use when you check in for jury duty. But this is a old story here with the last minute 'emergency' meetings, that most fishermen do not know about.
What is also troubling is that commercial fishermen have written letters to the DEC, asking to explain regulations, upcoming proposals, and other fishery issues. From what I am told, they receive NO RESPONSE to their communications!
It does lead one to question the commitment of this agency to try give the appearance of appropriately serving and treating the fishermen here in New York with the level of customer care that we see in private industry.
No fishermen is asking for 5 star dining when they attend a meeting, nor a immediate answer to their questions when they contact this agency. But when people write letters on fishery issues, they should be answered, even if it is a stock letter on the topic they are asking about.
If meetings come up on a emergency basis, a
REAL TIME
MRAC website, should post the date, time and calendar of topics that are to be discussed.
So why does this matter?
If you want fishermen to have some faith and trust in the system, the system should give the appearance that they are working in cooperation with the people that they serve.
FISHERMEN WHO THINK IT'S ALL ABOUT THEM-
Their was a small incident between a party boat and a 'so-called' recreational private boat over a spot this weekend.
Usually these things happen when a party boat and private boat race to a blackfish, or in years past, codfish spot, and they battle over the wreck.
The old 'I was here first', or 'your fishing my spot' is brought up for justification for staying on the spot. These incidents usually boil down to the use of the German vernacular choice words in the give and take between the captains, with one boat captain driving off in disgust to fish one of the hundreds of other spots that anyone can fish in the NY Bight at this time of the year.
What I hard find hard to believe is that this 'so-called' recreational boat would make a scene, when it is known in this area that it plays by it's own set of rules when it comes to obeying possession and size limits for blackfish.
A number of fishermen in this industry are doing juggling acts to keep their heads above water obeying the law. They worry about the slightest infractions with their customers if they are a party or charter boat, or have to abide by the 25 fish limit if they have a NY State Food Fish license.
Maybe it's best that you 'hang it up' this season before you get caught.
AND WHILE WE ARE TALKING ABOUT BLACKFISH-
It is also been talked about that the emergency regulation setting 2008 size/possession/season limits for the recreational fishery for blackfish in order to meet the requirement of the tautog interstate fisheries management have been basically set in place.
For those who do not know, here is the upcoming regulations for blackfish for recreational anglers in New York:
Option 3 was adopted with a open season from Jan 17-Apr 30; Oct 1-Dec 20 and a possession limit of 4 fish. These rules are set in place for this October 1st.
When I told one party boat owner about this, his question was 'what am I supposed to do for a whole month starting before Christmas, and ending mid way through January'?
Again it is one of those ' I don't know' because with striped bass season closed, and mackerel fishing or what little mackerel fishing we see within a reasonable distance of our shoreline, their is little else to catch but a few ling on the heavily pounded wrecks in this area.
Do these regulations make sense?
No, of course not as more boats are either being displaced from their traditional fisheries, and pressure put on other stocks such as cod and the offshore sea bass fishery.
The answer I have heard on why their was a closure during this time period for the party and charter boats in New York, was that information was given to the council that their was increased level of POACHING during this time period for the live blackfish market.
Honestly with all my years, starting almost on the ground floor of the live blackfish market here in New York, I have to wonder how the powers that be came up with this time period, felt that this one month period, prior to Christmas, and extending into January being the most lawless of the whole season.
My question to you, 'is there any valid numerical information that the DEC knows that the rest of the party and charter boat fleet doesn't know, that this period has the greatest unreported landings for this sector of the fishing industry'?
It really is going to be tough for the party and charter fleet in this area to come up with another fish to fill the void during this one month period.
All I know is that some of these party and charter boats just might use their food fish license and catch the 25 blackfish a day for themselves to get by during this time period. It's tough, but that is the only way to make a few bucks during that time period.
Again it makes you wonder, if the best available science runs counter to what is actually going on in our fisheries.
IT DOES MAKE YOU WONDER IF THERE IS MORE MONEY IN FRESHWATER CHARTER FISHING THEN SALTWATER CHARTER FISHING-
About a week ago, one of my good friends passed along some beautiful snapshots of large golden carp he caught a few hours away down south. I mean beautiful sized fish to 30lbs, caught from the shoreline.
One of our other friends who is a big carp fishermen himself, saw the photos and said 'boy I got to get down there to land a few of these large, great fighting fish'.
He really doesn't know the area, so he contacted one of the guides who fishes that body of water, and told him he just wants to target the carp.
The guide tells him, no problem but I have no weekends open for a while.
My friend tells him 'no I am looking to fish on a week day, so that you can fit me anytime within the next week or so'.
The guide tells him 'I am booked for the next
50
days with charters'!
Now who among us would think that a freshwater guide would be booked as tight as this during this time of the year, in a place hours away from NY-NJ metro area, to catch carp?
Boy if this does not give a charter captain a idea about starting is own little freshwater fishing guide service. It seems the demand for this type of fishing is growing....and to think that the angler will pay a charter fee, knowing full well that he will not bring home any of the fish he is targeting, to eat!
FINAL QUESTION- DO YOU KNOW HOW MANY POUNDS OF FISH A HARBOR SEAL AND CORMORANT EAT EVERY DAY?
I am not going to answer that question, but a fellow I work who catches bait, and a commercial fishermen I speak to, gave roughly the same answer to the pounds of fish these beasts consume every day in our waters.
The numbers are alarming when you multiply the amount of seals and cormorants that are now in our area.
If one is to wonder why there are few blackback flounder in the bays these days, one has to look no further then these two creatures who have some fine dining on our bay fish.
That's it for this edition of Dock Talk....
EC NEWELL MAN<>