Discussion Starter
·
#1
·
NY BIGHT COD? IS IT GOOD THAT WE ARE CATCHING THESE FISH?
I must admit, the saltwater scene here off the south shore of Long Island and coast of New Jersey has had some interesting fish catches over the last week and a half.
Since about the middle of December, many captains have been saying that the winter season has not been any where as good 'fish-wise' then was last years winter season, both inshore and offshore. Blackfish catches have been noticeably down, and the offshore sea bass and scup fishing for the offshore party boat fleet, has been to put it nicely 'disappointing', again as compared to last years bonanza.
So what happened?
Interestingly if anyone has been following the fish reports since the beginning of December, a rather large body of codfish that where off Montauk have migrated in there traditional south-westward movement off the south shore of Long Island. Those who had experienced our last great run of codfish during the Starstream and Capt. Al days during the 80s, have not seen a run of fish quite like this in more then a decade.
In a months time, a migration of roughly 100 miles from the tip of Montauk to the fishing grounds off of New Grounds, and 17 fathoms, has materialized, resulting in both surprised and happy faces of customers and captains, who see this little smattering of codfish, perk up what has been a lack luster black fishing season here in the NY Bight.
But the question that the WHEELHOUSE FORUM asks, is if the catching and keeping of these codfish goes against our present fishery management policies of both protecting and rebuilding our almost non-existent cod stocks in our area?
Now for many of you who have no idea about the cod fishery that has developed within the last week, let me give you a little description.
The overwhelming majority of codfish being caught are the result of a very good spawning year class from approx. 4 years ago. As one top fishing captain in the industry just stated to me, these are the "2 under - 4 over fish" from that class (roughly 3-7 lb fish).
I know right here you might be wondering what this 2 under and 4 over means, but it is as simple as stating, that the fish being caught consist of fish up to 2 inches under the legal size limit for cod, and up to 4 inches over the 22 inch size limit.
Even though the catching of these fish off the south shore of Long Island is seen as a good thing for the party boat industry, doesn't this again fall into the old thinking of 'catching it all up today, without worrying about what is left for tomorrow' attitude that has become the rallying cry of the recreational community against the commercial fishing industry?
I know how great it is to catch a codfish, and I have said in the past, that the blackfish has become a substitute for the winter king over the last 20 years in our area.
But I also know, that these migrating codfish are the 'seeds' for the future here off the south shore of Long Island. These fish are worth more in the ocean and our wrecks at this time, then in the fishermen?s pails.
The reason for the lousy cod fishing on the wrecks for many years has been a result of fishermen LIKE MYSELF, thinking about today, and the 'chest beating' that we would do at the dock when we brought in a big load of codfish.
As we have seen in the posted reports, the smiles and grins of in the pictures taken of fishermen holding codfish are indeed genuine. It is a great feeling to catch something that we rarely see anymore in this area. But are we also defeating the well intentions of the ground fish management plans by taking these barely legal sized fish, which had not yet reproduced ONCE, because we want to have a codfish meal?
I want to point out, that there is nothing wrong with keeping codfish 8 lbs or greater. We are fishermen, and we should be able to keep enough fish for the tables and freezers when we go fishing.
The point I do want to leave you with though, it is highly unlikely that we will ever see abundant codfish in this area, if we do not allow these 'seed' codfish to come through and repopulate the wrecks in our area. These new codfish will then be native to our area off the south shore of Long Island, and will result in much better fishing for cod within the next 5 or so years.
Codfish take a minimum of 5-6 years to be old enough to reproduce. Lets give them a chance....lets do something good, unselfish, and say 'I only need a picture' and toss it back unharmed'. Do your part, because keeping barely legal cod, does no one person, no one fishing industry, and most of all the cod fish stocks, any good.
No doubt it is tough love, and believe me, tossing back a legal fish is a very hard thing for many anglers to do. But I point out, that on Captain Tim Towers of the F/v Bunny Clark in Maine, that cod fish going up and over 30 lbs, are tagged and regularly released carefully back into the GOM. This serves two purposes. One being that we gain greater knowledge on the movement of codfish that are tagged and later caught, but it also gives that codfish another shot at reproducing at a later date.
I know for many of you, it will be tough to toss that barely legal codfish back. No one will ever say thank you for doing this, nor do they give out any rewards for releasing a legal codfish to sea. But, at least you will know that you did your part in helping rebuild the great cod fishery that we once had off the shores of Long Island.
If you read this, you know this is the right thing to do for the future.
TAMPA VII?
In one of the last Dock Talk rants, I mentioned some of the hidden costs of buying a wooden party boat. I pointed out a few things a buyer should be aware of, and that a cheaper upfront cost in say buying a 50k wooden party boat, may sound very enticing for someone looking to upgrade to a larger boat, but in fact may cost you much more money and heartache down the road as both engine and hull repairs run into multi thousands of dollars as you try to fix problems on a wooden boat that have manifested themselves through the many years the boat has been fished.
In no way did I say that buying a wooden party boat was a bad value! In fact, with the economics within the party boat fishing industry these days, it is just the opposite. Wooden party boats present a great value for those who are either entering the business, or looking to upgrade from a smaller vessel, or do like the late Captain Tom Marconi did, downsize from a aluminum boat to a wooden boat, again because of the high costs associated with the fishing business these days.
I was just asked recently because of the other thread, what in my opinion in a wooden fishing boat would be a example of a excellent value. Well since I do more internet surfing and research on fishing then the actual act of fishing these days, after some time put in researching, I came down to one boat that I felt would fit my parameters....and my parameters would be this:
1- Low hours on the engines-
2- Economical to run, even when you only have a few customers at the dock-
3- Solid hull that may have been upgraded with glass work like the West System, and Awlgrip paint-
4- Professionally and correctly installed dual anchor setup for wreck -
5- Updated wiring-
6- Reasonable speed-
7- Updated interior cabin-
Again after researching I found one vessel that fit the bill for a party boat that would be both economical and profitable for a captain to own and run. The one I personally came up with was: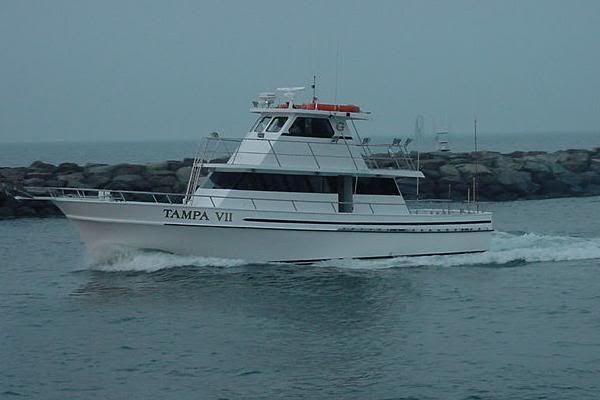 This is Captain Gene Beckers beautiful boat which is moored in Belmar Marina in New Jersey. Captain Gene comes from one of the most notable families in the party boat fishing industry, with his family being the owners and operators of the famous Tampa boats in Sheepshead Bay.
I spoke to Gene and he said that he is now willing to sell both his boat and business, and someone looking for a incredible value in obtaining what I would consider a turn key fishing operation, should contact Gene if they are interested.
Here is the Tampa VIIs website:
TAMPA VII- Captain Gene Becker
You can contact Gene from information on that website if you have any other questions.
BUFFOON STATEMENT NUMBER ONE FOR THE YEAR 2008-
I recently spoke to a person who makes many party boats during the season, and we got to talking about the high costs of taking a party boat trip these days. Immediately he comes out with the statement 'I am going to be cutting back on the money I spend on party boats this year'.
Now I thought he meant that he was just going to take fewer trips on the party boat, since this is the general feeling I hear from many fishermen today.
But what got me a little peeved is when I asked him 'what does that mean'?
This was his answer:
"You know, you got to cut back some way, and in the past, I usually tipped the mates between ten and twenty dollars for cleaning my fish and taking care of me....now the most I will give them is maybe ten dollars for cleaning my fish".
Well he got both salvos from me on this because of all people, the mates are the ones who YOU the customer have direct interaction with during your fishing trip.
I know the price of party boat and charter boat fishing, is starting to squeeze your pennies to the point where it makes them scream!. But, you have to remember, that the mates on these vessels are struggling to make a living, and that they depend ON YOUR TIPS for a days pay.
This is one area where being penny wise-dollars foolish can rear up and bite you in the 'tookus' to put it politely.
Please don't have this type of attitude when you go fishing on a party boat and a charter. Remember this is part of the cost of going fishing these days, and that giving a mate ten or twenty dollars or more as a thank you for their attention to your needs, and cleaning your fish, is proper tipping etiquette onboard recreational fishing vessels.
I cannot describe the look on a teenagers face when you hand them a nice tip, and tell them 'thank you' for the fishing day. It's a feeling that only those who worked on boats when they were younger can relate too.
Please think of the guys who work on the decks....like all of us, they have to make a living too!
THE SOMEWHAT 'SELF SERVING' AWARD FOR 2007?
You are probably wondering that the SELF SERVING Award is. Well it is a statement made by someone in the fishing industry which leaves people wondering if what they wrote, is truly what they meant to say.
The statement in question is as follows:
A LITTLE SELF SERVING TO SAY THE LEAST wrote:
But remember I was never a "big fish" captain. I look for quantity and the big stuff takes care of itself on way or another.
At first, I did not know this was written here on NOREAST on till it was forwarded to me by one of the sharpest fishermen I personally know.
I am not going to say where this came up on NOREAST or who the individual was, but this statement even left me wondering if I would want to be called a captain who was concerned with catching numbers of fish instead of being more conservational minded, and focusing on catching fewer fish but at least, trophy fish.
Over here in Sheepshead Bay it was a joke for years about one Captain who though a nice guy, was known as a 'small fish captain' Of course you are going to catch your few big fish every day, but it is one of those things that in the party and charter boat fishing industry you would not tell your customer, at least not as direct as this person wrote. I emphasize this because it is not a good label to be attached to your name or your fishing business, especially with the fare prices being charged these days.
Another thing that was brought up by this statement, was if this individual was taking a swipe at a very famous captain from his area who is known as a 'big fish' captain who concentrates on the trophies..... Good question......
I doubt there was any agenda with this statement, but as I stated previously, and I ask you, 'would you as a owner and captain of a vessel, want to be known as a 'small fish captain'?
DEMOCRACY IN ACTION- THE NEW JERSEY FISH POT BAN ON ARTIFICIAL REEFS-
Years back in the days when I actually fished, I spoke at a council meeting on behest on Tony DeLernia about the potting on the artificial reefs on the south shore of Long Island. I was the first to bring this up to the council in the late eighties, and it was one of those issues, which no one was really concerned about at that time, because the fishing industry had much greater issues to attend to during those years.
I was told "thank you, very informative and return to your chair".
Now roll forward almost two decades later, and we now see the first legislative attack by a northern state on banning the use of fish pots by commercial fishermen, on and around the various reefs in New Jersey.
This topic was addressed in this thread:
Bill to ban commercial fishermen from artificial reefs pending
The arguments within this thread where very well explained, both pro and against the fish pot ban around the artificial reefs. One in particular summed up the reality of the situation:
MAKO MIKE wrote:
Having said that, the government could still restrict access, like it does with the parkways (good analogy Dave!) But the ocean has always been open to everyone, at least before the MPAs came along, so what would be the public policy to warrant excluding any group? AFAIK, reefs do not increase the number os fish in the ocean, they just aggregate them, so if the fish belong to everyone, everyone should be allowed to fish for them. So I guess I lean toward allowing everyone to fish on the reefs. OTOH they government does restrict uses on the water to insure public safety, i.e. no anchoring zones, so if there is a real safety problem then that might be a god reason to exclude fixed gear.
I have not been a fan of fish pots since my exposure to them up here in the NY Bight, and in the waters off the Virginia coasts. Fish pots are efficient fishing instruments that have been proven to drastically effect bottom fish stocks, where ever in the world they have been used.
In particular a study conducted off Bermuda waters which had a extensive fish pot fishery up till the early 90s, clearly showed that reef bottom fish noticeably increased in numbers within just a few years time from the removal of this type of fishing gear: SAVING THE REEF FROM OVERFISHING- A tragedy of the commons averted?
The issue here as I have seen it over the years with this gear type is that a very small group of fishermen, can adversely effect a much larger group of fishermen, by using deadly efficient fishing methods.
Interestingly the fish pot has been around for years, and has been used world wide to land bottom fish. The basic design has remained relatively unchanged, and that the most notable changes over the years has been the materials used in the modern day fish pot. Escape vents have been modified to allow the safe release of smaller fish that enter the pot, and that special release points within the pot are now built in that allow parts of the pot to open up if the pot becomes lost and is left on the bottom for a extended period of time.
Recently I have been more accepting of commercial fishermen needing fish pots to supplement there income. With many species in our area so beaten down, the income derived from selling live blackfish and sea bass caught in the pots is necessary for them to feed themselves and their families.
But let me give you this analogy...fish pots can be looked at like steroids....they work incredibly well, so well in fact, that you want to use more and more to get the same or a bigger effect. The more you use, the more you have to use to maintain that effect....you actually become some dependent on them, that they become the primarily driving force, and that using any less or none at all, becomes unacceptable.
These days in fishery management, it is tough to find a fair balance for a fishermen whose livelyhood is dependent on catching fish from saying 'that making today?s dollar is necessary for tomorrows survival'. Of course this is true with many private businesses. But this is the devastating mindset that in part doomed the New England Ground fish fleet, with the piece by piece restrictive legislative fishing measures that were put in place to rebuild fish stocks.
At this time, there is no doubt that blackfish stocks are severely depleted from twenty years ago, and that sea bass stocks are in a down cycle.
There has to be a balance between the rights of recreational fishermen to catch fish on the reefs, and the rights of commercial fishermen to make a living from using these same artificial reefs.
A compromise should of been built into this legislation that would allow commercial pot fishermen to set a limited number of pots in a zone NEAR the artificial reefs during specific times of the year. This is how the legislation should of been written, because NO ONE owns or has a right to the fish in the ocean. It belongs to everyone, and we need to find a balance between both the commercial and recreational fishing industry in properly using, and sustaining these valuable resources.
GARM III REPORT- ONE OF THE MOST IMPORTANT REVIEWS & ASSESSMENT ON THE STATUS OF OUR GROUNDFISH STOCKS-
Thanks to my northern silent research friends in the field, I was just made aware of the 12/27/07GARM III report.
In simple english the GARM report is the
Ground fish Assessment Review Meeting
which brings together the most important information from the scientific data and surveys on the status and health of our northeast ground fish stocks.
As was explained to me it is
"the report that NMFS and the NEFMC will use to make the new rules for FW16. This is the science that they have been all waiting for. The key is if "overfishing occurring" and is the stock "overfished".
Essentially the effects to ALL fishermen from their findings will layout the future regulations for both the commercial and recreational fishing community.
As important as the summer flounder debate has been for us in this area, the GARM report is probably the heavily weight document that will dictate the framework on what the users groups can, and will be able to land in the future. It is pretty advanced as far as the objectives and goals in ensuring that the data collected, through towing surveys, commercial landings-by catch & discards, and what is reported by the recreational fishing community?the information and numbers are literally crunched to give the managers a idea on the current health and the future of a number of northern fish stocks.
Do not dismiss this?. anyone who wants to have a little idea on what will happen probably beginning in the year 2009 as far as the fishery regulations for all sectors will most likely find their answers here from the findings in this report.
My sense from what I have read of this 60 plus page document is that fishery managers are striving for the most accurate 'data inputs' to tailor and devise future ground fish regulations. It seems to be there keynote point through the document.
Accurately collected data is a MUST these days, and everyone who fishes should be aware, that they are doing no fishermen who fishes, or the fish stock any good by giving purposely wrong or incorrect data of their fishing activities. As a recreational fishermen it is your responsibility to tell the people who collect the surveys the truth on what you have caught.
As for my opinion on which direction the fishery managers will choose as far as tightening or loosening the current regulations, my best guess would tend to lean towards the current trend in fishery management of continued tightening of the fisheries to allow ground fish stocks to rebuild much quicker.
THE PAIN OF HIGHER FUEL PRICES TO THE FISHING INDUSTRY-
As most of us have seen at the gas pump, the price of both gasoline and diesel has started to reach the point, where people are actually starting to cut back on other things to afford to fuel their vehicles.
For recreational fishermen though, the higher prices have forced many to either not use their boats as often, or run a shorter distance, or even force them to pass the hat for the boat to leave the dock to go fishing these days. I know in the past, if anyone wanted to go fishing with us, we never took a cent off of them, nor did I hear of anyone really asking for gas money to go fishing just a few years back.
But just think of the effect to the commercial fishing industry. Diesel prices have jumped to insane numbers and many vessels, due to the small quotas placed upon them on what they can catch, can no longer land enough fish to pay for the higher fuel prices.
I know of one such person who before he makes one red cent in his pocket, has to stock close to 3k in fish per day on his vessel. Fishing trips of 65 miles or more in one direction, three days of towing and hauling back, and the return trip home, take much of the profit off the top of every fishing trip now. Of course, those brake downs that come up during the season, will most likely put you into the red, as you bank account has few extra dollars these days to pay for these normal incidentals that will occur when you go fishing.
As much as we say tighter regulations will force many commercial fishermen to leave the business, the much faster increasing and uncontrolled cost of fuel is now seen as the one-two punch that may permanently force many commercial fishermen to leave their vessels tied to the dock.
And talking about added expenses??.
I know fishermen complain to me all the time about the expenses of losing anchors/chain and line when wreck fishing but in the last months issue of the COMMERCIAL FISHING NEWS, the 72' dragger Captain Dominic out of Gloucester had a monetary loss that would give many here palpitations, upon having his net doing battle with a big wreck in the area where he was towing.
Some 90 miles south of his home port, his net, wires and doors got entangled in a wreck. Many times, draggers will back down or power out to free their expensive nets and pricey doors. Fixing a torn up net is not as big a deal, when compared to losing your whole ground fish set.
What even added to this captains pain, was that the Captain Dominic was using gear equipped with expensive trawl monitoring sensors!
Even with all the little tricks that a dragger captain can use to free his net and gear, and with the added loss of two grappling hooks sent down to catch the net and work the gear out, all was lost.
The cost.......$30,000!
It does put things into perspective for wreck fishermen when you figure that a good anchor and chain lost in a wreck, goes for just a few hundred dollars.
The location and name of the wreck? Well I have no idea, but I guess for a payment of around 30k dollars or so, I bet that captain would be willing to give you the correct numbers since he was definitely up & down on it, praying for a miracle to get his expensive gear back.
Well that's all for this DOCK TALK...
EC NEWELL MAN><
This post edited by EC NEWELL MAN 02:23 PM 01/08/2008